Student Animators Create New Art from 1960s Lithographs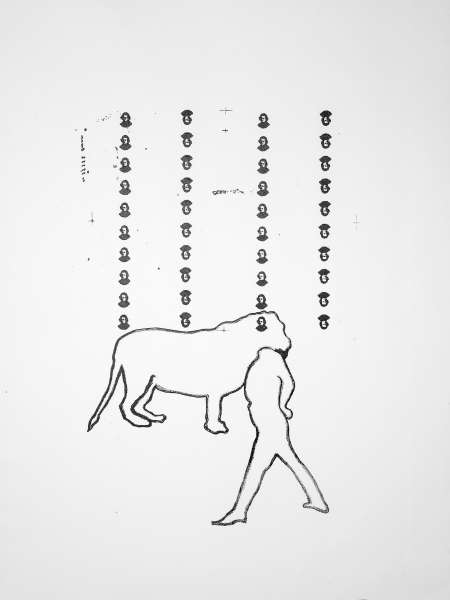 Keene State students Corinn Colford and Ian Plocki, working with film professor Jo Dery, created a video animation that was on display at a recent exhibition of the work of the late artist Robert Munford.
"The thing about the artist," says Corinn, a junior who is double majoring in film studies and graphic design with a minor in studio art, "is that he created these drawings and lithographs just for fun. A lot of artists today make art just for other people. They want to create the next big thing. But Robert Munford did this for himself, not to please anybody else."
The exhibition was curated by Rodney Obien, archivist at Keene State's Mason Library. He's been working to catalog Munford's work since 2011, and during a sabbatical over the last academic year he was inspired by the idea of new art created from existing art. He asked Bill Doreski, a retired Keene State English professor, to write poetry to accompany 12 lithographs Munford made in the 1960s when he was in residence in Germany.
Then he recruited Professor Dery to work with students on creating motion graphics from the black and white lithographs.
The artwork, poems, and five-minute video animation were on display over the summer in "In the Lion's Mouth: Poetry Doreski / Art Munford" at Atelier Laforest, the Dennyson, Maine, gallery and studio of the Robert Munford Estate.
Corinn, who made a trip up to the galley in June while the show was being hung, spent time talking with the artist's widow and viewing his work. The project gave her more of an appreciation for art, she says, and for the way that adding animation gives the work new meaning. "I loved the whole experience," she says.
For archivist Obien, the project is another piece in his effort to catalog the work of Munford, who is best known for his pop art. "It's kind of neo-Dada, neo-surrealistic," he says. A native of Worcester, Massachusetts, Munford lived for several years on the Spanish island of Ibiza – an artists' colony where Obien's wife also lived as a child, with her parents.
He's especially pleased he could bring Keene State students into the process and showcase their work. The video was displayed near the entrance to the exhibit, and the moving images stayed in viewers' minds as they took in the original lithographs and prints and read the poetry.
The animation, he says, "is pretty amazing. When I first showed it to the Munford family, they were blown away. It really changes how you view the artwork."
Related Stories