Keene State Junior Spending Summer With Kids On Campus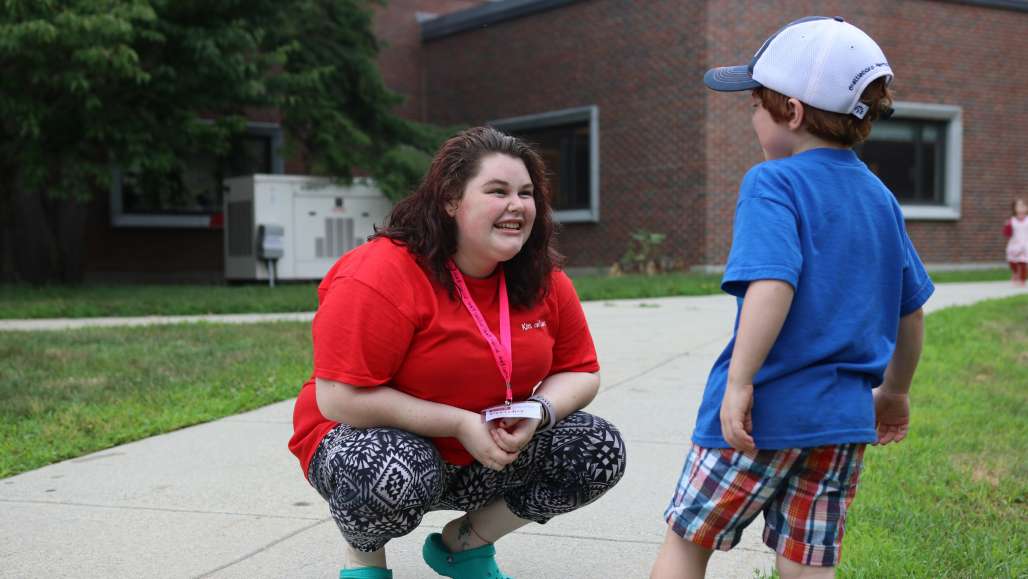 There are typical New England summer jobs, but what if there was something more meaningful a college student could do to make their summer cash? Keene State Junior Kendra Mullhall '20, of Brattleboro, VT is spending her summer vacation working with children at Keene State's Kids on Campus program. Kids on Campus is a summer camp for school children grades first through eighth, and preschool that provides learning experiences commensurate with campers' ages and interests.
Kendra volunteered with Kids on Campus in 2012 as an assistant to the teachers, helping children to complete their projects and keeping an eye on them. This year she'll be working closely with the children again as a paid employee and she says she's extremely excited to work with kids and spend her summer on Keene State's campus.
"I think the best part of working with kids is when they finally connect with you and they choose to do things with you. They're so full of excitement and unconditional love, and I see the brightness in them and I see that they really are the future," said Kendra.
Kendra has almost made it habit to be on campus during the summers, as she took part in the Upward Bound and LINKS programs before coming the Keene State as a student. Upward Bound is a program that aims to help high school students apply and be accepted to colleges. LINKS works to acclimate students to campus prior to move-in day in August by offering a few classes and the chance to live on campus over the summer.
"We took two or three classes in the summer and lived in a residence hall on campus. They also did SAT prep and helped me write the essay I used to apply for college while I was here," said Kendra. "It's basically giving you the tools and resources that you need to go to college. Many Upward Bound students are first generation students."
Whether it's taking part in ASPIRE's summer offerings or working with Kids on Campus, Kendra continually finds herself connected to Keene State outside the confines of academic semesters. According to her, that's just fine.
"Working with Kids on Campus is better than the typical summer job because you get to make a difference in these kids' lives by providing them with new opportunities and helping them explore new fields like space and nature," she said. "I feel like I'm making a real difference."
Related Stories