NBC Sports Job Brings Safety Grad to Olympics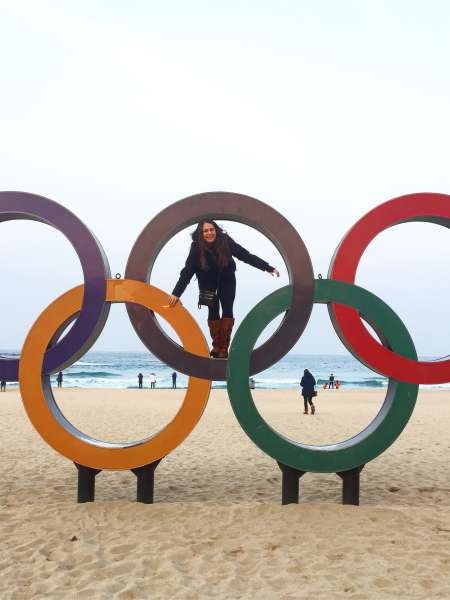 Julia Brenker's job as an environmental health and safety manager for NBC Sports landed her a front-row seat to some of the events at the 2018 Winter Olympics. "I saw the US Women's Gold Medal hockey game," she says, "which was amazing, and I climbed up the half pipe to watch Shaun White's Gold Medal as well."
Brenker, a safety and occupational health applied sciences major who graduated in 2013, travels to sporting events as part of her work. She's not there to watch sports – that's just a happy side benefit. She shows up early and stays late for the Olympics, the Kentucky Derby, Sunday Night Football, and more to make sure that the set-up required for NBC to broadcast the event is safe and that all local, state, and federal regulations are followed.
Brenker and her team are there in advance to oversee construction, check, inspect, and make fixes to structures and equipment, and have medical plans and crisis plans in place in case of an emergency.
"Sports productions are a lot like live music venues," she says. "We have camera platforms and a lot of scaffold platforms, and personnel that are working from heights in order to get the shots that everyone at home sees on their television. There's a lot of pre-show work that we do by serving the location about two weeks before our crew gets on site."
She and her team worked hard, she says, but they were also able to enjoy some of the events. From a safety perspective, the most critical issue was the cold. Luckily, they planned for it in advance. "We saw that Pyeongchang is the coldest place on earth at that latitude in January and February," she says. The safety team countered that by purchasing and bringing along heated vests for the crew to wear outside, during events, and during the opening ceremonies – when the wind chill brought temperatures down to minus 25.
"It was sunny during the day," she says, "but the minute you lost the sun, it was crazy cold. About 50 percent of our staff worked outside. So we stocked up on toe and boot warmers, and mountain gear – spikes for shoes. We had people on the side of a mountain, on the half-pipe. We had all sorts of cold weather gear."
Brenker has been working in the production end of the safety field since before she graduated from Keene State, getting work experience during an internship at SeaWorld Orlando. She followed that up with a job as safety production manager for ESPN, then spent a year as a safety specialist with AAA Southern New England. She's been working with NBC Sports Group, based in Stamford, Connecticut, for two and a half years.
She's also working on a master's degree in safety through Keene State's online program, which she hopes will introduce her to some other areas in the field. "I owe a lot to Keene State," says Brenker, who arrived on campus planning to become a teacher and switched majors after taking a safety class with Professor Wayne Hartz. "It has been a fun career."
Related Stories