Software Engineer by Day, Comedian by Night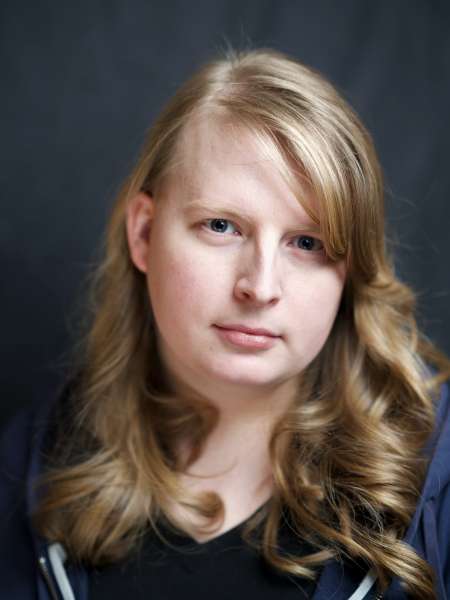 The first time Erin Spencer '09 got up on stage to try out a comedy routine, she bombed – on purpose. "Everyone always says you bomb the first time you do stand-up; you really don't get any laughs," she says. "So I waited for an open mike night when the audience wasn't laughing at anything."
The reaction? Let's just say they didn't exactly burst into laughter. "But, hey," says Spencer, "I was just as good as everyone else." And not discouraged from trying it again.
A computer science and management double-major, Spencer, who lives in Somerville, Massachusetts, is a software engineer by day. Hired after graduation by a software company based in nearby Cambridge, she now works remotely for a New York City startup doing application development.
She'd been out of college for a few years before starting her standup career, but she honed her comedy skills working at a summer Boy Scout camp while still in school. She loved being on stage there, being funny and making people laugh. She missed that part of her life, so she checked out the Boston-area comedy scene, wrote some bits, and took the plunge at an open-mike session.
Her material? Everyday life as a transgender woman. Spencer, who transitioned post-Keene State, opens by telling the audience she's transgender. "When I get up there," she says, "I want to make sure I actually talk about being trans, because if I don't talk about it they're going to think about it and get distracted and not hear any of my jokes."
She likes the idea that her comedy may open people's minds, and is aware that she is the first transgender person some audience members may have encountered. She doesn't try to speak for the transgender community, though. "I'm just talking about my personal experiences," she says.
And pointing out the humor in them. Here's a sample of her joke-writing process: "One of the things you can do as a transwoman is change your voice," she says. "Right now I'm purposely speaking in a higher tone of voice, but I can go lower if I want. I thought that was funny and would do that among friends." That got her thinking about ways a trans person could take advantage of that particular talent.
She came up with a scenario in which she was on a phone conference call for work, and she'd suggest an idea and no one else on the call would respond. Then, in a deeper voice, she'd say, "Great idea, Erin! Good job!" After which every else would jump in with their own words of praise. So Spencer's voice-dropping trick became a pointed joke about gender and the way women's contributions can be overlooked in the workplace. She practiced it at open mike sessions, got feedback from other comedians in attendance, and made some tweaks before rolling it out for a "real audience."
"Comedy is the thing for me," says Spencer. "It's one of my favorite things. The feeling of getting people to laugh while I'm onstage – it's just wonderful."
Related Stories