Nursing Student Gains Experience Working in Intensive Care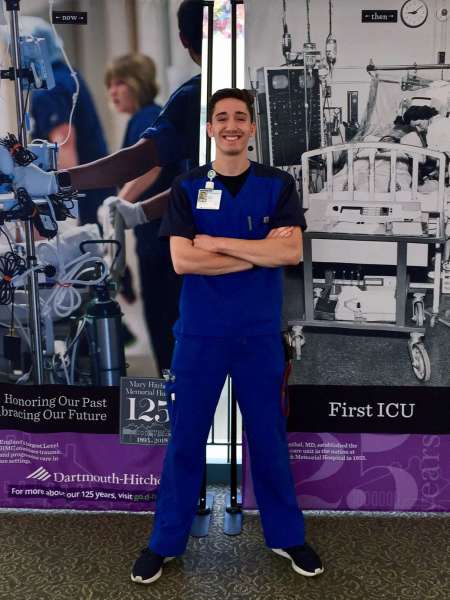 Keene State nursing student, Jimmy Halkiotis '19, is participating in the gold-standard of externships this summer on Dartmouth-Hitchcock Lebanon's intensive care unit. Halkiotis, from Hampstead, NH, is gaining skills under two intensive care nurses at New Hampshire's largest hospital. During his time there, he is getting hands-on experience with what being a critical care nurse entails and requires.
When asked what his most interesting accomplishment has been during his time at Dartmouth-Hitchcock, Jimmy found it difficult to choose one. He finally settled on the most pivotal moment of his experience so far. He was working in a room where a patient was having a pulmonary hemorrhage that required a team of nurses and doctors to keep the patient alive. "I got to do chest compressions, saw how a code runs, and worked with the doctors and respiratory and pulmonary therapists, all as a team. In the moment, I felt like I was right on."
The externship also helps polish the knowledge he gained in the classroom at Keene State. "Through my experience at Dartmouth-Hitchcock, I've learned a lot about IV drugs, particularly what's being used, when, and why. In the ICUs, many people take sedatives so I'm getting familiar with them and their ups and downs. In school here, we learn generally, but because I'm in a specific area, I'm learning so much."
Jimmy notes that the nursing program is preparing him with the skills needed to be a technically excellent nurse, and to complete the national certification, called the NCLEX. He says the experience he's getting at Dartmouth-Hitchcock is just as important.
"The school is preparing me for the NCLEX and the externship is preparing me for the real-life experience. The NCLEX is a way to make sure that people are prepared and knowledgeable for nursing, but doesn't guarantee you'll be a skilled nurse from the beginning. I'm learning many things in school and at Dartmouth-Hitchcock, and I'm lucky to have both experiences."
Going into his senior year at Keene State, Jimmy will be required to complete a preceptorship in the spring to graduate. His goal is to land one with the medical-surgical intensive care unit in Lebanon and to have that open a door for more opportunities.
Related Stories