Faculty Honoree Lauded for Marine Studies, Encouraging Young Women in Science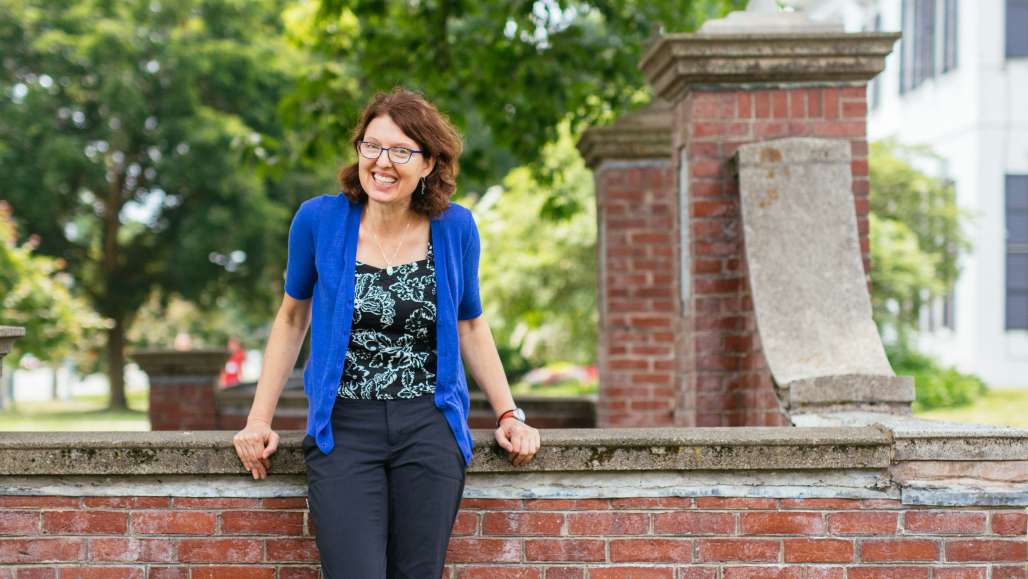 A professor whose research lies at the intersection of population genetics and marine ecology has earned Keene State College's 2018 Faculty Distinction in Research and Scholarship Award.
Dr. Cynthia Hays, associate professor of biology, and her student researchers are looking into the ways that marine macrophytes (seagrasses and seaweeds) respond to variation in their environment, and applying what they learn to conservation. Her work, which has been recognized internationally, has important implications for preserving marine environments in the face of climate change.
In addition to her research, Dr. Hays was cited for her work encouraging young women to pursue studies and careers in science.
From the awards program:
"The intellectual tools in Dr. Hays's wheelhouse are impressive and wide ranging, as she has recognized expertise in molecular genetics, statistics and modeling, as well as in ecological experimental design and fieldwork.
"She quite simply 'does it all,' from field to lab bench, and then goes on to publish her research in top tier journals in her discipline, including Ecology and Ecological Monographs. She has maintained a robust R-1 level of scientific productivity with limited funding, and working with undergraduate students. Her letters of support commend her scholarly excellence, highlight the many citations of her work, and students report how her caring mentorship has motivated them to improve and challenge themselves.
"She works tirelessly to accomplish all of this, spending many hours of her time each week working hands-on time in the lab and in the field with students. She does not do her work in isolation, but is actively collaborating with other scientists. Dr. Hays continues to maintain collaborative work with previous mentors at UC Santa Cruz and elsewhere, allowing our students insight into both east and western coastal environments and research communities. While new to the northeast, she has established a reputation as a highly valued scientist who serves her scholarly community broadly and meaningfully.
Dr. Hays deeply engages students in her research and is a highly sought after mentor. Her scholarship is in an area of science traditionally dominated by men, and her exceptional scholarly work and strengths as a mentor have encouraged many young women to pursue science as a career. Cynthia's future work agenda will continue the robust path she has laid out, with multiple manuscripts in prep. We are truly lucky to have such an accomplished and well-recognized scientist and mentor as part of our community, and our students benefit from her mentorship and support of women in science. Our community and students will continue to benefit from Dr. Hays' expertise and research for many years to come."
Related Stories