Life Sciences Business Leaders Meet to Strengthen Student Career Opportunities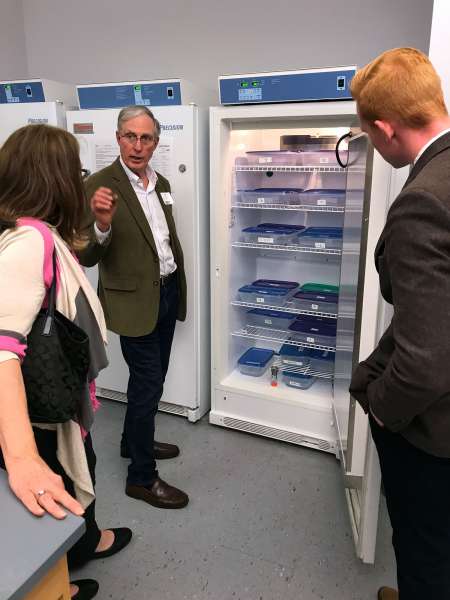 With an eye toward New Hampshire's growing life sciences ecosystem, including the emerging field of engineered tissue manufacturing through the Advanced Regenerative Manufacturing Institute (ARMI), Keene State hosted an event on May 15 with the NH High Tech Council to promote workforce development collaboration among higher education, business, and government. Life science business leaders from ARMI, Millipore, GE Healthcare, Avitide, Teleflex, Lonza and other companies convened at Keene State's TDS Center building where they learned about a range of programs that help prepare students to be productive and promising employees in this important and growing business sector.
Drawing on its strong programs and interdisciplinary collaboration, Keene State is an important workforce resource for New Hampshire's growing life science business community. The College is a leader in biomedical undergraduate research through programs such as the New Hampshire-Idea Network for Biomedical Research Excellence (NH-INBRE), which is a statewide program funded by the National Institutes of Health, and it has strong relationships with life science businesses.
Keene State's cutting-edge program for advanced manufacturing engineering and design, Sustainable Product Design and Innovation (SPDI), is an important source of talent that understands the entire manufacturing process from design to production, filling important engineering and other vital technical roles. Keene State students have access to incredible opportunities through these programs. Here is one example of how Keene State is helping students and the state to succeed: https://www.keene.edu/news/stories/detail/1517582999671/.
Related Stories