Sustainable Product Design Student Applies Her Knowledge in the Field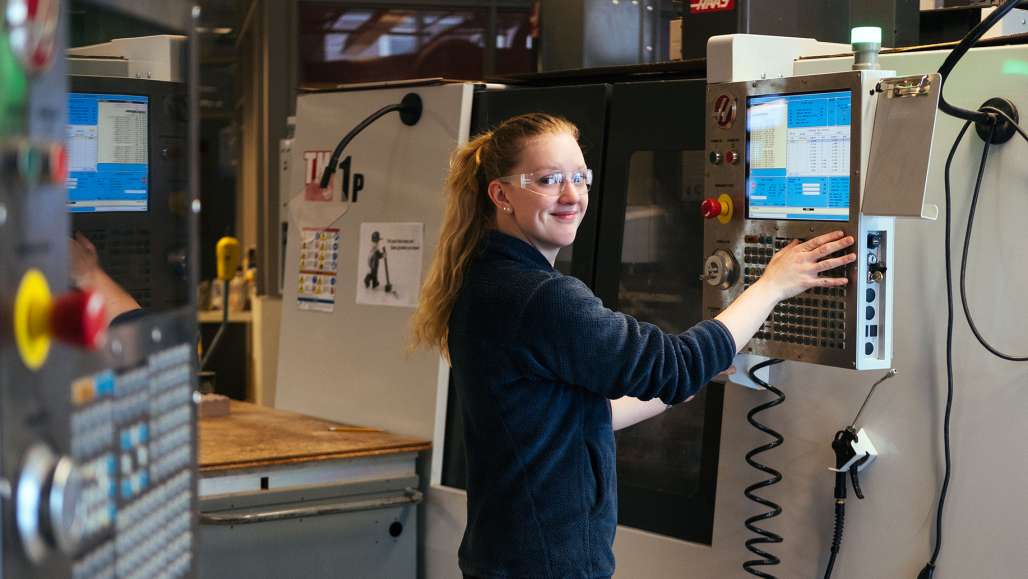 Most students come to Keene State to discover what they want to do with their lives. Julia Proctor, '20, instead jumped into a professional career first, then became a Sustainable Product Design and Innovation (SPDI) major at Keene State.
Julia, a sophomore from Marlborough, NH, took two years of machine tooling classes at Keene High School during her time there as a student. At Keene High, her machine tooling teacher urged her to consider Keene State's SPDI program to continue her education.
"My high school teacher and Keene State's corporate relations person, Dan Henderson, both told me that SPDI would be a good fit for me and so I decided to try it. Turns out that they were right. It's a cool program," said Proctor.
While applying to Keene State, Julia also applied for an internship as a machinist at Corning Net Optics in Keene. "My internship was mostly based in the machine shop, running manual mills and lathes, and then CNC machines. After that, I began doing drawings and some minor fixture work while running the 3D printers."
Corning serves a variety of commercial markets with cutting-edge, advanced optical solutions. Their materials are used in many fields, including aerospace and defense, astronomy, industrial, medical, ophthalmic, semiconductor, and telecommunications.
While she began her design skills before studying at Keene State, Julia has continued to learn and grow at the College. "My favorite class so far has been Electronic Engineering, but I also took Product Design, where you learn a lot about designing products and how to work with how your body moves," said Julia. "I also really liked the CAD class, because I was doing CAD work at Corning. I transferred that knowledge from the classroom to my design work at Corning."
Part of what Julia likes about the SPDI major is that she's not limited to working in any one field. "SPDI is a wide-open degree. You're not stuck in anything, like if you were getting a manufacturing engineering degree or an electrical engineering degree where you only do one thing," she said. "SPDI opens up a broad field, and from what I've heard of others who have graduated, you can do a wide range of jobs."
Julia's exposure to numerous career fields comes in part from the Manufacturing Partners Scholarship that she received, which allowed her to travel to Whelen Engineering, Markem-Imaje, and Hitchiner Manufacturing, where she experienced day-to-day processes and interviewed employees about their work.
While she still has a few years before she graduates, Julia said that she has a lot of interesting work ahead of her and she's looking forward to it.
Related Stories