Students Gain Real-World Experience in Intensive Internship Course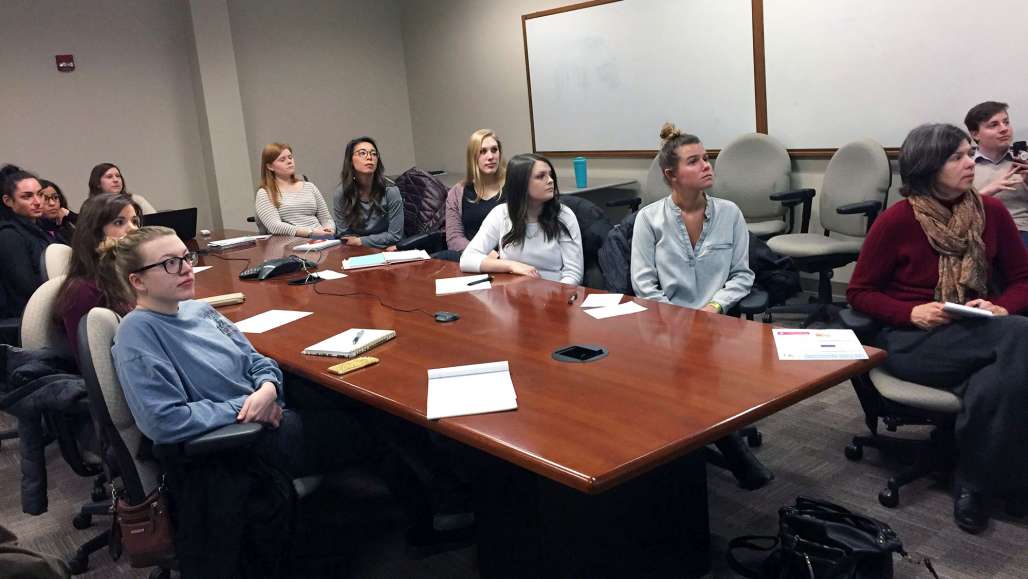 At Keene State, there are courses designed specifically around the internship experience. Instead of solely working a part-time internship, students also spend time in the classroom parsing their workplace experiences, learning business etiquette, and practicing key skills, like interviewing.
Dr. Chitra Akkoor, associate professor of Communication and Philosophy, designed one such course, which had previously been structured as an independent study. She has taught the new internship course for the past five semesters.
"Through my experience teaching this course, I've found that it is not enough to simply have students do internships," remarked Dr. Akkoor. "It's important to make them reflect on various experiences they have at their site, to notice things, ask questions, and take the lead."
Dr. Akkoor has forged partnerships with almost two dozen organizations in Keene – a mix of for-profit and nonprofit, including a few departments at Keene State – in an effort to match students in work environments of interest to them. This semester, students interned at YCMA Keene, Masiello, Academic and Career Advising, and more, doing work such as event coordination, marketing and promotion, and social media support.
Liana D'Attilio '18 is working as an intern in Keene State's Marketing and Communications Department. "My internship course is probably one of my favorite classes I've taken in my communication major," she said. "I think it's so great students are offered this real-world experience, and then we can come back to class and discuss what we're all up to at our own sites."
In addition to the internship and in-class learning, students also participate in off-site visits to businesses around the area. For example, this semester's class met with Monique Vachon '17, a human resources representative at C&S Wholesale Grocers. Vachon, a communications major, took the same course a year ago.
"The internship class prepared me in ways I wasn't expecting," noted Vachon. "Through the integration of coursework and real-life experience, I was able to learn things about the professional atmosphere on my own with the guidance of a professor. It has helped me with my current role at C&S Wholesale Grocers because I know how to build professional relationships with co-workers, as well as work in an environment with various types of people with different backgrounds."
A year after her graduation, Nicole Bartolotta '17 is equally grateful for the knowledge she gained in this internship course. "My internship gave me a leg up from all of my competitors," she said. "If I hadn't done that internship, I 100% would not have my current job in real estate. Learning the ins-and-outs of the interview process was key. I'm not sure I would have survived six interviews without it!"
"The course has been useful in helping students connect the dots, and articulate what they know, succinctly and persuasively to different audiences," added Dr. Akkoor.
The Communications Department, in conjunction with the English Department, will present an Internship Showcase on Wednesday, April 11 from 4:30 – 5:30 pm in the Student Center Flag Room. Students will share their experiences interning at different organizations and also expand on the educational aspects of their experiences.
Related Stories