Rhode Island Student Finds Second Home at Keene State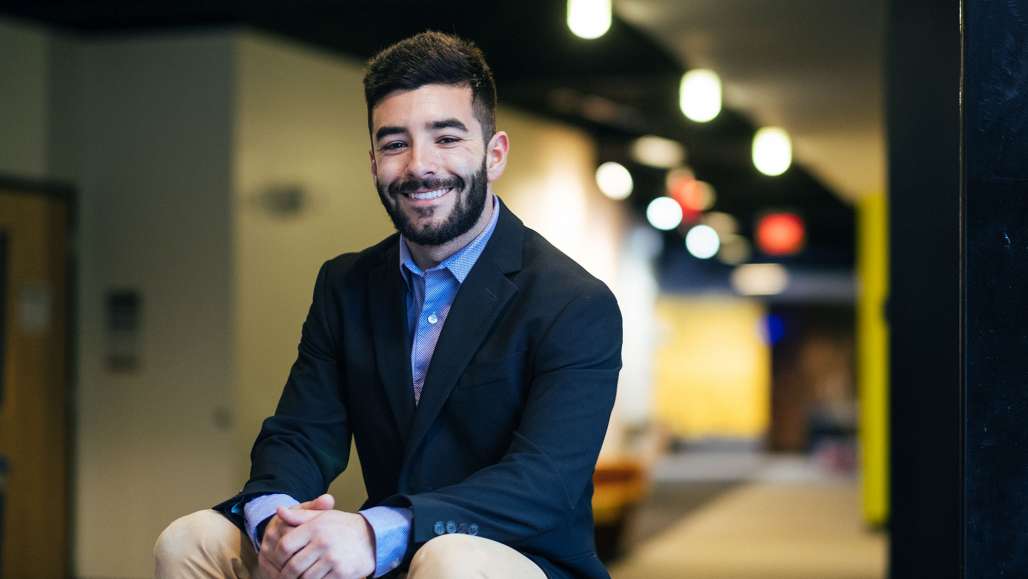 When Jacob Paquin '18 looks back at his time at Keene State College, the friendships he's made and the strong sense of community will stick with him. Paquin is a senior graduating in May and he's already starting to feel nostalgic for his college years.
"When I was a first-year at Orientation, I immediately got that feeling of belonging," shared Paquin. "It stays with you all four years. Everyone you walk by on campus, you know. We are all friends, we work together, we're in classes together. We're just one big family."
Paquin is thankful to have experienced Keene State as an out-of-state student. "If I had gone to college in Rhode Island, it would have been like high school all over again," he said. "I wanted to start fresh and meet new people."
A business management major with interests in film and photography, Paquin hopes to open his own business someday. While on campus, he honed his photography skills with Keene State Athletics, serving as a team photographer and taking headshots of our student athletes. Paquin has also put his creative video talents to use as a social media intern for the Admissions Department.
Having worked closely with Admissions all semester, Paquin has this advice for those embarking on their college search: "Visit the school and see what Keene State has to offer. When I visited, it was on rainy, dreary day and I still liked it. When I liked it that day, I knew I would like it even more on a beautiful spring day."
And for those students starting their four-year journey in the fall? Paquin's advice is to enjoy every second of it because it will go by too quickly.
An adventurer at heart, Paquin spends his free time exploring the region through skiing, hiking, outdoor photography, and more. On warm, sunny days, don't be surprised to see Paquin speed down the center of campus on Appian Way on his roller blades.
Overall, studying at Keene State has helped Paquin get ready for life after college. "Keene State has not only prepared me for a future job, it has made me who I want to be," he said. "Meeting new people, going to classes, and being on my own really helped mold me into who I am now."
Related Stories