Graduating Nursing Students Well-Prepared to Pursue Their Passion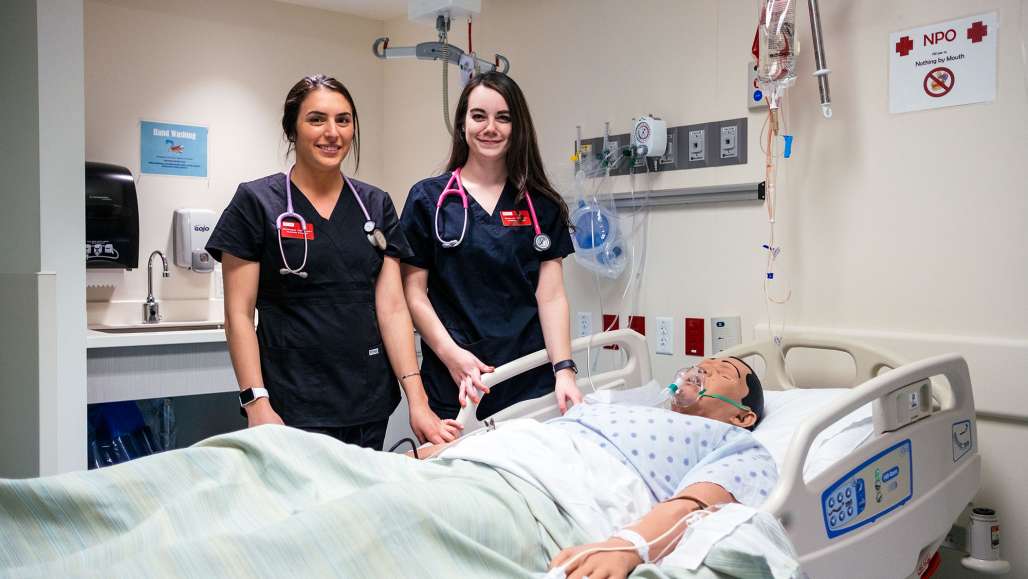 Between classes, a preceptorship, studying for the predictor exams and the NCLEX (National Council Licensure Examination), graduating seniors Makayla Philibert '18 and Dominique Vaillancourt '18 feel well-prepared for a career in nursing.
"I'm one of those people who always wants to help others," said Philibert on why she wanted to become a nurse. "I get a sense of joy from caring for others. Once I took anatomy in high school, I knew nursing was for me."
A more personal experience led Vaillancourt to nursing. "I was in the delivery room when my brother was born six years ago," she said. "The nurses let me be involved – I cut the umbilical cord. It made me want to be in the medical field."
The nursing program at Keene State is comprehensive and has a lot to offer students pursuing a career in medicine. "The amount of material we cover in the courses is really extensive," said Philibert. "We cover each specialty, from maternity to pediatrics, and the clinical opportunities in the area are excellent. We rotate through specialties at Cheshire Medical Center, the Brattleboro Retreat, Cedarcrest Center for Children with Disabilities, and the New London Hospital."
Vaillancourt likes the small classes offered at Keene State. "It's big enough that you're not singled out, but it's small enough that you really get to know your teachers, your teachers know who you are, and they can track your progress," she said. "We have a lot of new faculty who are really trying to push us and help us succeed."
Studying nursing at a liberal arts college has been a unique and valuable experience. "There are some classes I wouldn't have taken, and they led me to pursue my second degree in public health," said Vaillancourt. "I feel like I have a better understanding of health that I wouldn't have gotten with nursing alone."
For both Philibert and Vaillancourt, the preceptorship is the most exciting part of the nursing program. Nursing students shadow an assigned registered nurse for 168 hours over the course of their senior spring semester.
"At first it started off with me observing her," said Philibert. "I've slowly built independence and have started to do skills by myself. She has complete confidence in me to do certain clinical skills. In the coming weeks, she wants me to take on two of her patients and plan their care for the day. It's a good transition into the real world."
"We have the classroom knowledge, but then we get to do it with real patients, nurses, and doctors so we can see what the experience is like," added Vaillancourt. "You can do the simulations in the lab, but it's not going to be the same when you are with a patient and nervous about what to expect."
Philibert and Vaillancourt plan on taking the NCLEX soon after graduation, as both are pursuing new-graduate medical-surgical nursing positions. Each aims to have a deeper foundation of nursing prior to moving towards their chosen specialty – both are deciding between maternity or labor and delivery.
Related Stories