Albanian Student Embraces the Keene State Experience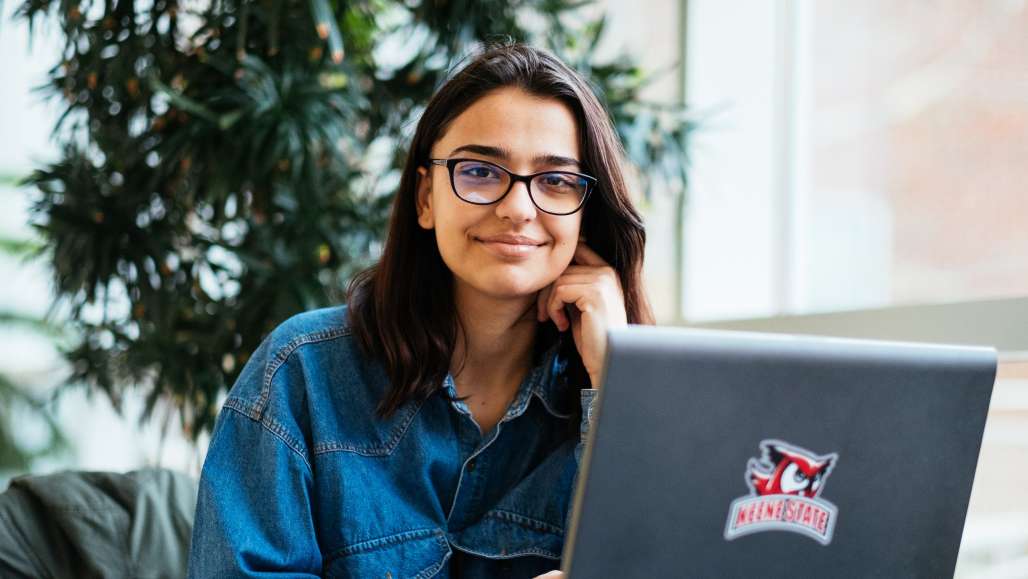 For international exchange student Eva Vraniçi, Keene State has been an eye-opening adventure. She has traveled approximately 4,500 miles from her home in Albania to soak up the liberal arts tradition at Keene State for the spring semester.
"The first thing I noticed when I arrived was a guy in shorts walking in the snow, and I was so shocked," shared Vraniçi. "I thought 'Ok, this is going to be different.'"
A senior visiting from the University of New York in Tirana, Vraniçi is majoring in computer science. The importance of education was instilled in her at a young age, as both her parents and older sister have obtained degrees in higher education. She noted that education is different between her home institution and Keene State.
"Here, there is more conversation between the students and teacher," she said. "You learn, you ask questions, you get immediate feedback. It's more hands on and a great learning environment."
Vraniçi is most excited about her Artificial Intelligence and Robotics class, where she is learning to program a robot. She enjoys working on this team project, though is surprised at being the only girl. In keeping with the tradition of a liberal arts experience, she is rounding out her class schedule with Photography I.
Her favorite thing about Keene State? Meeting the students. "The students are very into their major, from music and instruments, to sciences and economics, there is a very diverse group of interests represented. You learn a lot."
When not studying in the library or swimming in the pool, Vraniçi joins other international exchange students in outings with the Global Education Office. So far, they have traveled to Maine and Vermont. She also likes exploring downtown Keene with her friends and heading to the local movie theatre.
Vraniçi wants her fellow students to know that while Albania may be a small country, it boasts many global leaders with ties to the country, like Mother Teresa whose parents were Albanian.
Overall, it's been a very positive experience for Vraniçi. While she misses the noise and bustle of Tirana, the capital of Albania, she is grateful for the opportunity to explore the United States and learn in a completely different environment.
"Studying abroad is a fantastic experience," concluded Vraniçi. "You get out of your comfort zone and learn about cultures, you meet people and make friends, and are exposed to new communities. I would encourage all students to study in a different country."
Related Stories