Undergraduate Biology Students Conduct Research Through NIH and NSF Grants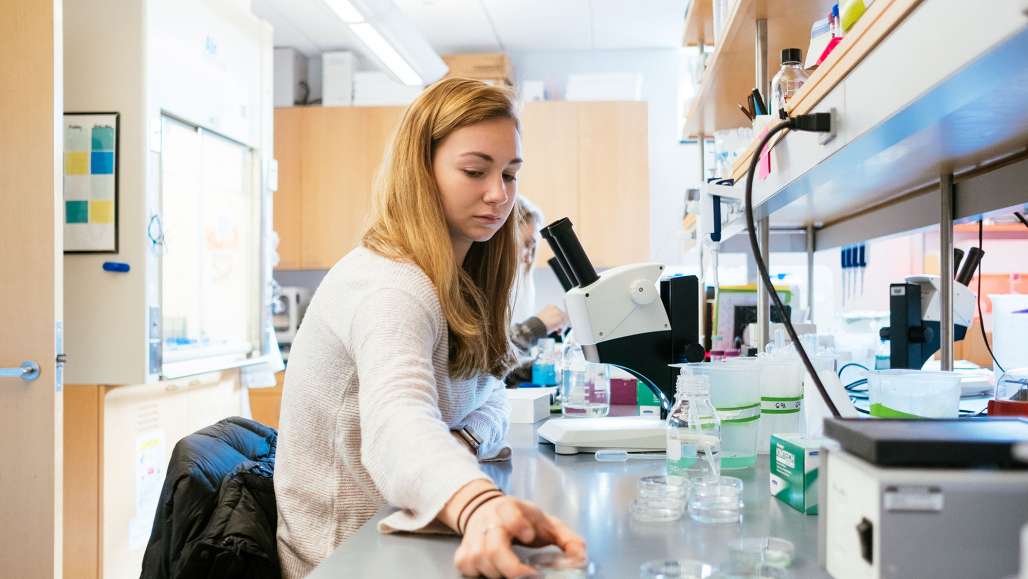 Students studying with Dr. Jason Pellettieri, associate professor of Biology, are researching critical building blocks of biology. Working with planarian flatworms, which quickly regenerate lost body parts after amputation, eight students in Dr. Pellettieri's lab are searching for clues into how stem cells drive formation of new tissue. Their work focuses on identifying which genes are turned on and which are turned off during regeneration. Stem cells also form new tissue in humans, and the results of their research may have relevance to our understanding of human health and disease.
"Planarians are simple laboratory animals that give us a nice opportunity to study the molecular biology of stem cells and regeneration," said Dr. Pellettieri. "Because they share many genes with humans, we hope our work will ultimately reveal new avenues for medical treatment of injury and disease. It's really exciting to get to work with such dedicated students on this research, with financial support from the NIH and NSF."
In addition to the research experience students are gaining at Keene State, students have had the opportunity to collaborate with others at MIT on parts of the work. Haley Zanga, a senior from Peterborough, NH who is majoring in Biology, took advantage of this opportunity, and she is active in Dr. Pellettieri's lab.
"The lab work I am doing is helping me to put concepts we learn in class into real-world perspective, and personally, it is helping me to manage my time well. This work is also preparing me for opportunities in the biotech industry," said Haley.
The research opportunity is having a lasting impact on students, including how they shape their future plans. Samantha Boulanger, a sophomore from Dover, NH who is majoring in Biology said, "I greatly value the opportunity to work in Dr. Pellettieri's lab. It has been life changing for me in terms of my career goals and the skills that I need to have after I graduate. I've learned leadership skills and time management skills, and Dr. Pellettieri pushes me to be the best researcher possible."
About Funding Sources
National Science Foundation
This project is supported 100% by funds from the National Science Foundation (CFDA #47.074).
National Institutions of Health
Research reported in this publication was supported by the National Institute of General Medical Sciences of the National Institutes of Health under Award Number R15GM126456. The content is solely the responsibility of the authors and does not necessarily represent the official views of the National Institutes of Health.
New Hampshire-INBRE
Research supported by New Hampshire-INBRE through an Institutional Development Award (IDeA), P20GM103506, from the National Institute of General Medical Sciences of the NIH.
Related Stories