Keene State's Superstar Staffers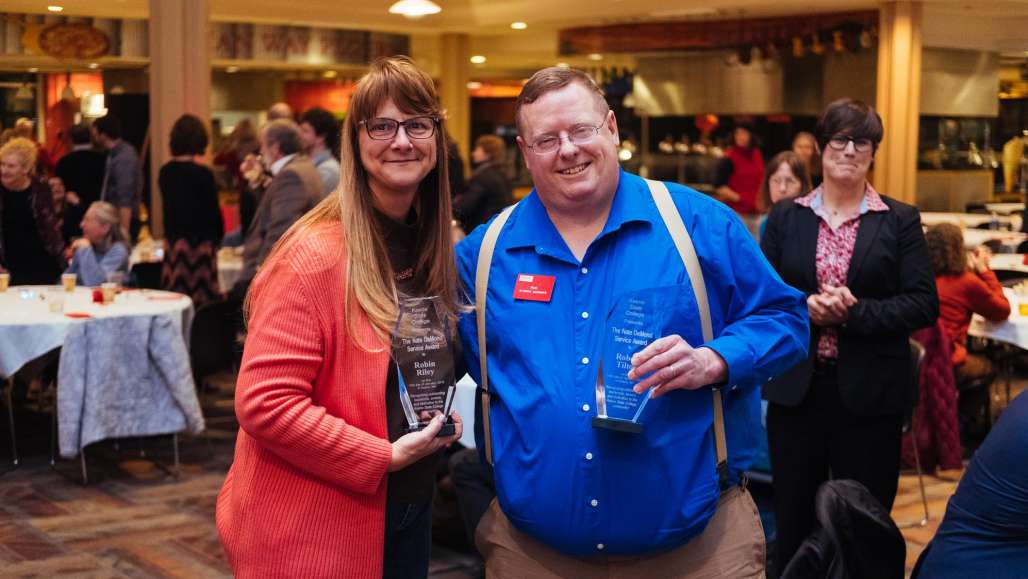 Staff members at Keene State College got together January 10 to celebrate the work of their friends and colleagues from around campus. The second annual Staff Awards of Distinction Gala honored outstanding achievement by members of the operating staff and professional and technical staff, along with adjunct staff and departments.
This year's recipients, selected for their contributions to the College community through their initiative, citizenship, collaboration, can-do attitude, and/or service (drum roll, please):
Cory Davis, coordinator of Student Conduct, received the Rising Star Award, given to staff members with less than three years of service who have "risen to the occasion," are exemplary in their department, and show potential and promise in their work.
Matt Bacon, recycling coordinator, earned the Collaborator of the Year Award, which recognizes an individual who has left their comfort zone and has partnered with another individual or department for a project or initiative to better the overall College community.
The Registrar's Office received the Department of the Year Award, given to a department that has flourished, contributing to the overall academic and co-curricular experience at Keene State.
Melanie Lizotte, senior program support assistant for Student Affairs and Enrollment Management, picked up the Citizenship Award, which recognizes an individual or department that possesses the characteristics of true citizenship, advocates for social justice, and has contributed to the overall City of Keene and/or Keene State community.
Robin Riley, library services supervisor, and Rob Tilton, information technologist with Student Accounts, each received the Nate DeMond Service Award, established in honor of the 12 years of service of Nate DeMond, who demonstrated pride, dedication, and loyalty. Members of Nate's family were on hand for the awards presentation.
Soren Paris, CRM administrator with the Information Technology Group, earned the President's Award for Distinguished Service, presented to a staff member who has contributed to the College community through initiative, citizenship, collaboration, can-do attitude and/or service.
More than 175 administrators, staff, and faculty members attended the awards gala. The gala and the awards were coordinated by the Staff Recognition Committee. Thanks to all who helped show appreciation for the great work of the Keene State College staff, and big congratulations to the award recipients!
Related Stories