Caring for the Dead, and the Living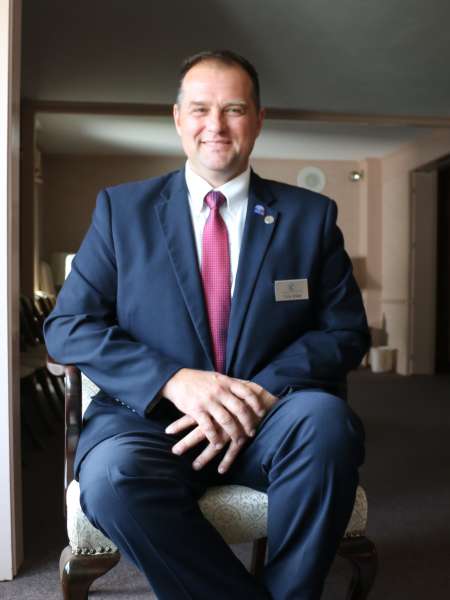 When Chris Wilder '92 started college, he was aiming for a career in aviation management. That plan never took off, but now, some three decades later, his work involves a different kind of departures.
"Being a funeral director agrees with me," says the business management major who works for Cournoyer Funeral Home in Jaffrey, New Hampshire. "The job, as weird or odd as people think it may be, is pretty fulfilling."
Wilder found his way into the field in a somewhat circuitous manner. A lifelong Keene resident, he landed at Keene State for his sophomore year when the cost of continuing at a Nashua aviation college became prohibitive. After graduation, he held various jobs with local companies, but hadn't found just the right thing. Then he talked with a family friend who was, at the time, managing director of the Fletcher Funeral Home in Keene, and who said, "Why don't you come and work for me?"
"I gave him the 'huh?' reaction," remembers Wilder, but then he did some research into the job requirements and expectations, and realized it might be a good fit for him. He accepted the job offer, starting as an apprentice – there's typically a trial period with this kind of work, to see whether, he says, you can "deal with it."
"It's not just dealing with the body," he says. It's the fact that death doesn't operate on a 9 to 5 schedule. "You're going to get called at 2 o'clock, 4 o'clock, 5 o'clock in the morning. You're going to get called on your birthday, on your anniversary, on Christmas morning when you're just sitting down to open presents with your kids."
The work suited Wilder, so he went back to school, earning an associate's degree in funeral science from the Funeral Institute of the Northeast in 2008. He continued working at Fletcher's until moving to Cournoyer's about two years ago.
What does the job entail? Large funeral homes in urban areas often have specific people for specific tasks. But in a small-city or small-town setting, a day at work for a funeral director can mean juggling a number of responsibilities. Wilder does everything from collecting the deceased – from homes, hospitals, nursing homes, and even accident scenes – to shoveling snow from the sidewalk before a service.
That could mean meeting with families; preparing a body for viewing – embalming, dressing, or doing cosmetology; writing an obituary; dusting and vacuuming in preparation for calling hours; setting up the chapel area; arranging for flowers; coordinating with the armed services around military honors; contacting caterers, florists, musicians, and clergy; and serving as an usher. "You're an event planner as well as a funeral director," Wilder notes.
But a funeral is not just any sort of event, and helping families through the deaths of loved ones requires a fairly specific set of qualities. "You have to be able to deal with the trauma," he says. "You have to be able to deal with the complexities of death, what happens to a body, what happens to people – the grief that they go through. Sometimes anger and sadness gets directed your way, and you have to be able to look past that. You have to provide the family with a stable footing so they can stand back up after a difficult time."
And, he adds, everything a funeral director does has to be done in a respectful manner. It's not a job for everyone. In fact, there's likely a fairly selective group of people with the right abilities, temperament, fortitude, and desire to help in difficult situations. "If we didn't do it," Wilder says, "it wouldn't get done."
Related Stories