Learning About Humans … from Frogs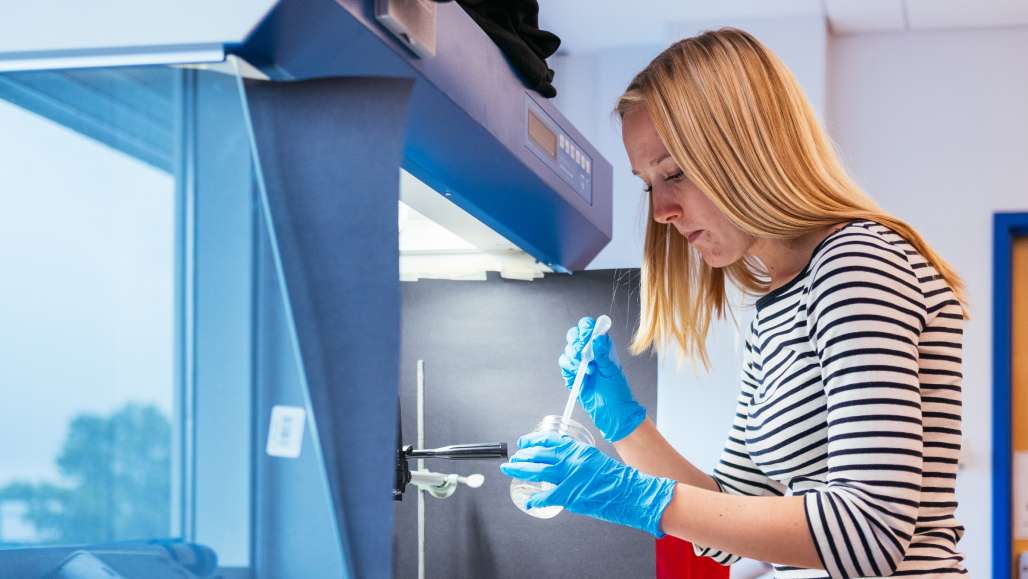 What can frogs tell us about the effects of environmental toxins on the human body? A Keene State faculty member and her student researchers are working to find out.
The African clawed frog, also known as Xenopus laevis, shares a couple of important features with humans: both are vertebrates, and both have chambered hearts. Those similarities, and one important difference – the frogs are transparent, so their beating hearts can be observed – make them good candidates for research into how pollutants affect human development, notes Susan Whittemore, a professor in the Biology Department.
Whittemore and her students are exposing Xenopus embryos to polycyclic aromatic hydrocarbons or PAHs, common pollutants that result from the combustion of organic materials – cigarettes, gasoline, heating fuel, furnaces, even food cooked on a barbecue grill – toxins we all ingest regularly. They hope the developing embryos will help provide insight into the effects that PAHs have on developing human fetuses.
Human fetuses are exposed to certain PAHs through the mother's blood, notes Whittemore, who has been working for seven years with Keene State students on this study, which is funded through NH-INBRE, a biomedical research program of the National Institutes of Health.
How do these chemicals alter normal developmental processes?
Two of Whittemore's student research associates, both juniors who are applying to graduate physician assistant programs, recently talked about the studies they are conducting to find out about how PAHs affect the cardiac and nervous systems.
Adam Harris, a nontraditional student from Jensen Beach, Florida, spent a year gathering data on frog embryos that had been exposed to two toxins. Because the embryos are transparent and their hearts are visible with magnification, he and his research partner put them under a microscope, videoed for 25 seconds, and then went back and counted each embryo's heart beats.
The research showed that the embryos had bradycardia – abnormally slow heart rates – that worsened the longer they were exposed. More exposure also brought increases of atrioventricular block, a loss of signal conduction from the atrium to the ventricle.
Anna McFarlin is working to record the neurological effects of PAHs on Xenopus tadpoles. The Concord, New Hampshire, resident is filming the toxin-exposed tadpole larvae to compare how they react to a loud noise with the reactions of a control group that has not been exposed. What she and her research partners are finding is that the exposed tadpoles are hyperactive. They don't swim faster than those in the control group, but they swim for longer periods of time.
The exposed tadpoles are also hugging the perimeters of their petri dishes, which could indicate anxiety, Whittemore noted, and they are also showing signs of potential hypersensitivity. The next step for McFarlin and her partner is to expose the tadpoles to the scent of predators to see whether they recognize potential danger.
"It's nice to carry on a long-term project," says McFarlin, who hopes to work in pediatrics or oncology as a physician assistant. "You dive deep."
Harris, who served nine years in the Marine Corps before enrolling at Keene State, notes that the research experience has been valuable to him in the classroom and in applying to physician assistant programs.
"It's honestly been very rewarding," he says. "Apart from doing your scientific civic duty and bringing awareness to what these PAHs can possibly do to us as humans, it's been a very great academic experience."
As for the effects on humans of the environmental toxins – which are plentiful not just in the air and the ground but in the food we eat – Whittemore hopes the research will contribute to work being done on fetal and child development.
"There is still a lot to learn about how children who are still developing biologically and neurologically up until adolescence are being exposed," she says, "but they're finding higher PAH loads in children than in adults, so fetuses are being exposed, and children are being exposed to a higher degree than adults. What are the short- and long-term consequences of these exposures?"
Related Stories