Re-imagining the Putnam Science Center Courtyard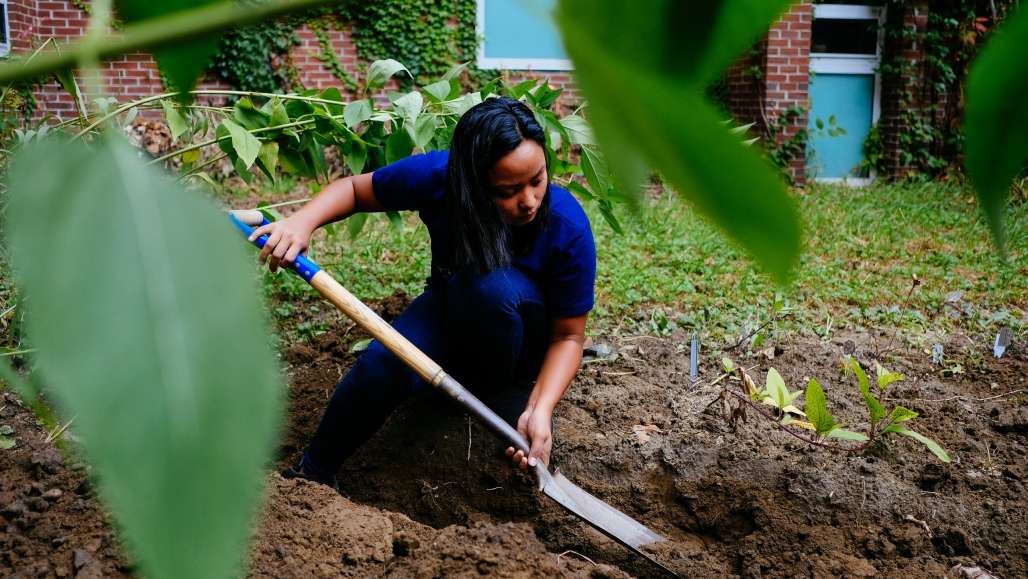 Katie Featherston, Biology Lab and Greenhouse Specialist at Keene State, is working with several students to transform the courtyard in the Putnam Science Center into a permaculture garden, revitalizing the space for use by the campus community.
Representing a variety of disciplines, these students are replacing the original flora with what will hopefully be a self-sustaining assortment of plantings.
"We've started creating beds and paths and we're going to use a permaculture method where we put down cardboard covered by mulch to control weeds," said Featherston. "In the spring, we'll plant into the beds a combination of annual and perennial plants."
One of the students working on the project is Michael Hunyadi '18, a resident assistant in the Global Explorers Living and Learning Community. He is part of the student group, Gardens for Social Justice. Every Friday, Hunyadi and several of his residents work in the courtyard to create the permaculture garden with the goal of having it prepared before winter arrives.
"Last week we put some plants in the ground that can survive underground during winter. We're going to continue to get it set up for next semester," said Hunyadi. "I'm just trying to involve students – particularly my residents and other first-year students because this space has a lot of potential that hasn't been utilized."
The plants being installed this fall were purchased with funds from a PepsiCo Challenge grant and will include blueberries, mint, and kiwi. Creating spaces for growing sustainable food is a fundamental objective of Gardens for Social Justice.
"The goal right now is focused on the garden, but we started the club because healthy food isn't necessarily available to everyone and we wanted people to learn how to grow food," said Hunyadi.
A permaculture garden in a shared space isn't the only idea that has sprung from re-imagining the courtyard. Featherston said she hopes that other students are willing to take their skills to improve the space for other purposes.
"There's still a lot of room out here for students to come up with their own ideas. I've investigated having mushrooms and mycology and fruit trees," said Featherston. "I'd like to enlist some design students in building an arbor and pergola to grow grapes back here."
Related Stories