Thorne-Sagendorph Art Gallery Exhibits Expansive Work of Robert S. Neuman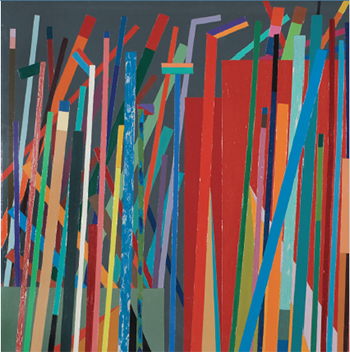 The Thorne-Sagendorph Art Gallery at Keene State College will show a major exhibition of the work of American artist and Keene State College professor emeritus Robert S. Neuman (1926–2015). More than 50 works from institutions including the Carnegie Museum of Art, the Currier Museum of Art, the Fogg Museum at Harvard, and the Hood Museum at Dartmouth – and from important private collections – are included in this critical survey of a career that spanned the entire second half of the twentieth century.
The exhibition, titled "Impulse and Discipline: 60 Years of Painting by Robert S. Neuman, 1950–2010" will open on September 22 and remain on display until December 6. A public opening reception will be held on September 22 from 5 p.m. to 7 p.m. Copies of the exhibition catalogue will be available for purchase.
"Robert Neuman's work was shaped by many influences over time and through the various locations in which he traveled and resided. His art beautifully expresses the complex aesthetic legacy of a tumultuous twentieth century. Through the efforts of scholars, museums galleries, and private collectors dedicated to sharing Bob's vision, this exhibition pulls together a wide range of this significant artist's work to provide a rich, comprehensive look at his work and life. We are thrilled to present this important exhibition – and the accompanying catalogue and programs – to the Thorne's many audiences," said Thorne-Sagendorph Art Gallery Director Brian Wallace.
Two additional exhibition events will be offered:
Robert S. Neuman and Post-war Art
Guest curator Joseph Ketner, art historian Lisa Crossman, and essayist and critic Carl Little discuss the artistic and intellectual path that took Robert Neuman from Montana to California, from New York to Germany, and from Spain to New Hampshire, Boston, and Maine. The speakers will happily sign copies of the exhibition catalogue. Moderated by Thorne director Brian Wallace; reception follows the conversation. When/Where: Saturday, November 4, from 2–4 p.m. in the Gallery Conference Room
Robert S. Neuman: Artist as Teacher; Teacher as Artist
An informal discussion for artists, educators, students, and families by a group of Neuman's former students from Keene State College, Harvard's Carpenter Center, and Brown University, about Neuman as teacher and mentor – and about balancing the life of an artist with the life of an educator. Moderated by Craig Stockwell, Keene artist and New Hampshire Institute of the Arts program head; reception precedes the discussion. When/Where: Friday, October 13, from 6:30–8 p.m. in the Gallery
Significant support for the Robert Neuman exhibition and related programs is provided by Cambridge Trust Wealth Management, Robert L. Savage, the Diana Davis Spencer Foundation, and Mary S. Savage; additional important support is provided by Agnes S. Peele, Linzee and Beth Coolidge, Frank and Kelly Campion, Jackalyn Bennett, and Charles R. Grigg. Thorne programs and events are supported by the Robert P. Hubbard Family Trust and by Keene State College's School of Arts and Humanities, and the Offices of Advancement and of Continuing Education and Extended Studies.
Related Stories