The New Blake Memorial Pocket Park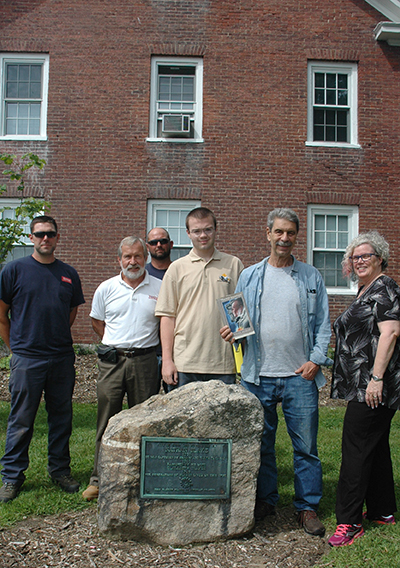 If you haven't been on campus lately, and if you're not used to peeking through hedges, you may not know that there's a monument to Nathan Blake, one of Keene's first citizens, on the Main Street side of Blake House. Blake settled in Keene in 1736 and was captured during an Indian raid in 1746 and was taken prisoner to Quebec. In 1749, after many adventures, he made his way back to Keene and re-established the home he'd left behind. His story was the inspiration for 1969 alum Ernie Hebert's historical novel, The Old American, which many regard as his best work. Though the monument to Blake has been in place since 1926, about the time the last of the Blake clan left the property and deeded it to what was then Keene Normal School, it's been hidden for years behind a thick hedge.
But now, hatched by a talk Hebert gave to the Ashuelot Chapter Daughters of the American Revolution, the monument is the center of a new pocket park, easily visible by all. Ernie told the DAR members about Nathan Blake, and the fact more people might know his name if the memorial the DAR had dedicated to him back in 1926 was not obscured by that hedge. The group wondered if they might create a park at the spot.
Maybe the genesis of the park actually started several years ago, when Hebert, as a young, inquisitive boy, peeked through that hedge. "I didn't realize it at the time, but I discovered myself as a writer at the Blake monument," he said. "I was about nine years old, a student at nearby St. Joseph's Elementary School, when I read the inscription of the plaque. I had such a feeling to want to go back in time. It was the beginning a vivid interior life that continues into the present. It's that feeling of wanting to share one's interior life that creates a novelist."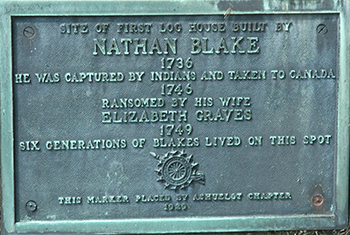 Nancy Howard, regent of the Ashuelot DAR, reached out to Bud Winsor, who is responsible for maintaining Keene State's beautiful campus, about the proposed park, and Bud was happy to help make that happen. She then contacted Tuck Abert of Boy Scout Troop 302, who needed just such a project to earn the coveted rank of Eagle Scout. Abert worked with Winsor and other members of the College grounds department to choose just the right landscaping design and the most appropriate plants to enhance the monument.
The monument, and the park, is now open to all. Winsor said that they will be adding a bench, courtesy of the City of Keene, and the DAR plans to do a rededication of the monument. Stay tuned!
Related Stories