Education Consortium Launches to Grow Green Economy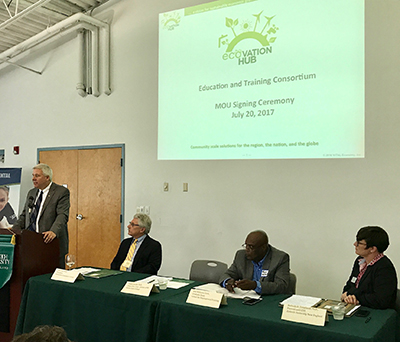 Ecovation Hub develops as strategy to address Vermont Yankee Nuclear Plant closure
Antioch University New England, Greenfield Community College, Keene State College, and the School for International Training are launching the Ecovation Hub Education and Training Consortium, which is dedicated to bringing broader green economy knowledge and opportunities to the tri-state area of Vermont, New Hampshire, and Massachusetts. A ceremonial MOU signing and networking event with leaders from the four institutions took place on Thursday, July 20.
Comments were provided by Abigail Abrash Walton, PhD, director of Antioch's Advocacy for Social Justice & Sustainability concentration and Environmental Studies Master's program, as well as co-director of the University's Center for Climate Preparedness and Community Resilience and lead for the Ecovation Hub Knowledge Center; and Alex Wilson, founder of BuildingGreen and the Resilient Design Institute. Signers at the event included educational institution leaders Dr. Melinda Treadwell, CEO and Provost of Antioch University New England; Dr. Bob Pura, President of Greenfield Community College; Dr. Todd Leach, Chancellor of the University System of New Hampshire, on behalf of Keene State College, and Dr. Ken Williams, Dean of the SIT Graduate Institute.
The Consortium brings together these four higher education institutions in the tri-state region and connects planned education and training programs with workforce development priorities and green economy opportunities.
Related Stories