Keene State Alum Earns NH Music Educator Award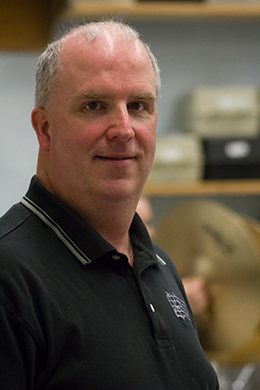 Keene State College alumnus Glen D'Eon '93 has been awarded the Distinguished Music Educator of the Year by the New Hampshire Music Educators Association (NHMEA).
D'Eon who has been involved in music education at Fall Mountain Regional High School in Langdon, NH, for most of his career, received his undergraduate degree from Keene State College and elected to continue living and teaching in the Monadnock region.
The award is given annually to a music educator in New Hampshire, and selection is based on the teacher's effectiveness, professionalism, and service to NHMEA. 
"It's an honor, considering all of the wonderful music educators in the state," said D'Eon. "I don't see it as an award for me as much as it's an award for my students, former students, faculty, staff, administration, and everyone who helped get me to where I am, and makes the program what it is."
D'Eon, who has maintained a connection with Keene State since graduating in 1993 through his service as a member of Campus Safety as well as an adjunct faculty member in the Music Department, said he regularly gets student teachers from Keene State who come to study at Fall Mountain. 
"I learn as much from them as they learn from me; I'm learning all the time and growing every year, and I'm trying to continue that," said D'Eon. "I tell them that teaching is 95% personality – giving the kids respect and showing them that you want to help them be the best musician and person they can be; the other 5% is what you know. If they don't see that you're passionate about what you're doing, you're not going to get through to them," he said. 
Carley Patch, a former student of D'Eon's who played baritone and trombone in the band at Fall Mountain, said that D'Eon was particularly good at working with students of all skill levels. 
"I really enjoyed him as a teacher because he was absolutely one of the most giving teachers that you could have had. You can tell that he's a very serious teacher; as I got older and took more classes with him, I could tell that he knew how to teach students differently because not everyone learns in the same way," said Patch. 
D'Eon echoed Patch's sentiment that different teaching methods are warranted for different students and added that including them in musical decision making helps to build a passion for performing music.
"I wouldn't be doing what I'm doing for so long without that respect and passion for what we do. You've got to get the kids involved in as many decisions as possible. Then you have them invested in it and they know that you trust them to make musical decisions," said D'Eon.
Related Stories