Chemistry Undergrad Studying Links to Anti-Cancer Molecules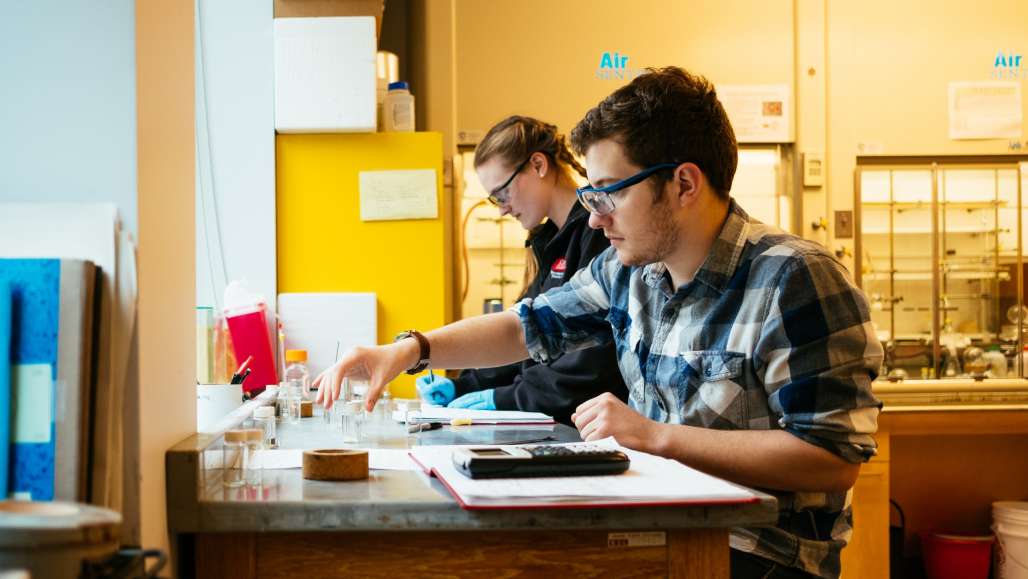 Nicholas DeJesus, a sophomore from New Ipswich, N.H., is working with Associate Professor of Chemistry Dr. Brian Anderson this summer on research regarding the synthesis and characterization of novel thiosemicarbazones, and binding these molecules to metals including palladium, nickel, and iron to study their structural properties, and possible reactivity. Thiosemicarbazones are known to have medical benefits to humans.
Jessica Vandevord '18, a veteran of Dr. Anderson's lab, is paired with DeJesus to guide and mentor him in his scientific endeavors.
"Our research this summer focuses on optimization of the synthesis of thiosemicarbazones using a microwave reactor. Microwave reactors can significantly reduce the amount of time and energy spent on synthesizing a reaction when compared with a traditional synthesis method," said Vandevord. "Finding the most efficient microwave synthesis will provide the greatest amount of product in the least amount of time and energy. Optimizing the synthesis of thiosemicarbazones is significant, as thiosemicarbazones can be catalysts, and have antibacterial and anticancer properties."
DeJesus, a biology and chemistry double major, learned of opportunities to conduct undergraduate research through Dr. Paul Baures in chemistry and Dr. Steven Harfenist in physics during his first year. He began working with Dr. Anderson shortly thereafter, utilizing skills he gained in his general chemistry lab.
"Almost everything I learned in general chemistry I use daily in lab. Between finding molarities, unit conversions, determining the structure of compounds, synthesizing these compounds, and brainstorming with Dr. Anderson, it's no exaggeration that I'm using those skills daily," said DeJesus. "It seems like I'm constantly applying the chemistry I learned in class."
DeJesus said that he's regularly picking up new skills in the process of working with Dr. Anderson.
"I'm learning new skills in lab like naming organic compounds and conducting reflux reactions. These are essential skills to have in the chemistry field. I'm sure I'll use these in class and the field in the future," said DeJesus. "This work gives me the knowledge and skills to be successful in the lab which is helpful since I plan on be a veterinarian which involves a good deal of lab work."
While some of the work is done alone, DeJesus does work closely with Dr. Anderson and Vandevord to maintain communication about the course of the research.
"Some days I may be doing something I'm unfamiliar with and Jess or Dr. Anderson will spend time in the lab making sure I'm comfortable and teaching me new skills," said DeJesus. "On those days, I spend almost the entire day working directly with them and overall they're always available to me if needed."
This one-on-one contact with research faculty is something undergraduates at other institutions would be unlikely to experience.
DeJesus and Vandevord are is receiving housing support this summer through the Building Excellence in Science and Technology (BEST) program at Keene State, and DeJesus is also being paid through BEST.
"You would be hard pressed to find many other colleges that not only offer paid undergraduate research, but the complete support of the faculty you're working with," said DeJesus.
Related Stories