Biology Undergrads Study Effects of PAHs on Multi-Chambered Hearts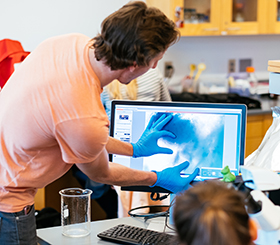 Professor of Biology Dr. Susan Whittemore has a full lab of undergraduate researchers this summer conducting a study on the effects of polycyclic aromatic hydrocarbons, also called PAHs, on the developing embryos and larvae of the frog Xenopus laevis.
Shannon Upham '20 is one of Dr. Whittemore's undergraduate researchers who connected with the study by way of the Building Excellence in Science and Technology (BEST) program at Keene State. Upham is working on both the main experiment as well as conducting a side experiment with Xenopus to see if they are social eaters.
"We're working to determine how PAHs affect the feeding behavior of Xenopus larvae. PAHs are released into the environment when you burn things, like oil, wood, cigarettes, and diesel," said Upham. "Our team is working to find out how PAHs affect organisms in our fast urbanizing society. PAHs can pass through the placenta in utero. There has been a high correlation between women who have high PAH levels and their children having low birth weights, smaller head circumferences, lower IQs, and lower birth lengths."
Anna McFarlin '19 is a biology major working in Dr. Whittemore's lab continuing the research begun in previous semesters. "We are also fortunate enough to have great faculty who want to see student involvement. If you want to start research in a lab, it is almost guaranteed that you will find a lab to work in," said McFarlin. "I have been able to practice my time-management skills, leadership skills, and critical thinking. Having the certifications on lab safety and vertebrate animal care will help me get into programs after undergraduate studies."
In addition to being paid for their work in the lab, undergraduate researchers have the opportunity to put the skills they're learning in the classroom into practice before taking to the working world.
"In the lab, I have noticed that I am using many things that I learned in general chemistry. I must make solutions often, which involves me checking pH, adding acids and bases as needed, and calculating molarity," said Upham. "I also have noticed that my experimental-design skills and scientific-writing skills have improved due to working in the lab."
While many of the day-to-day activities in the lab are carried out by undergraduate researchers, the students do still have face time with research faculty to bolster their skills and address concerns.
"Through this research, I have made numerous new connections with other staff here at Keene State," said McFarlin. "I am constantly in contact with faculty about this research, not just Dr. Whittemore but with numerous other biology faculty."
Through the BEST program, summer research students are receiving on-campus housing support in order to be closer to their labs, helping them to gain a more immersive research experience.
This research is supported in part by New Hampshire-INBRE through an Institutional Development Award (IDeA), P20GM103506, from the National Institute of General Medical Sciences of the NIH.
Related Stories