Students, Staff, and Alumni Serve in Coastal North Carolina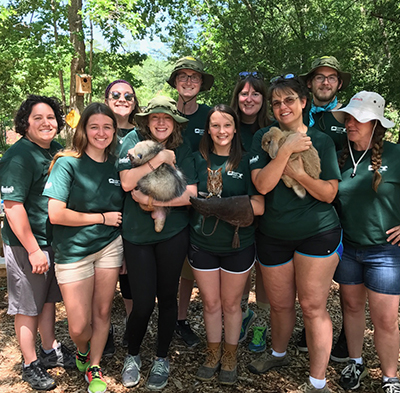 One of many ways that Keene State students, alumni, faculty, and staff provide service to communities, local and beyond, is through the College's annual Alternative Break trip. Ten Keene State College students, alumni, and staff embarked upon one of these Alternative Break trips this May, travelling to coastal North Carolina to aid in environmental protection efforts that are underway there.
This particular trip combined participants with several unique life experiences. It provided the opportunity for people with a wide range of backgrounds to cohabitate and learn from each other during service. Ages ranged from traditional-aged undergraduate students still working their way through Keene State, to participants with decades of life experience.
The group provided support to Possumwood Acres Wildlife Sanctuary in Hubert, NC. The organization's mission is to treat injured animals with the intent of releasing them back into the wild. Daily work at the sanctuary includes feeding, cleaning, and rehabilitating animals that have had conflict with humans.
While Alternative Break trips are separate from the classroom, learning comes at virtually every turn. "Everybody learned a little more about their values and how they act on their values in relation to the world, particularly in relation to the natural world and how they're going to live their values in the future," said trip leader Jessica Gagne-Cloutier, who serves as the College's coordinator of community services.
"I think participants could tell you that have a newfound respect for wildlife. For example, we learned that possums eat ticks, and that, annually, a vulture will do on average, $11,000 worth of cleaning per bird. It gave me a new respect for what those creatures give back, and their importance in providing services to our environment," she said.
While learning on Alternative Break is separate from learning in the classroom, many of the lessons learned in North Carolina relate to values at Keene State. "The obvious ones are our sustainability goals and our stewardship goals. Diversity is another area – there was a diversity among members of our team," said Gagne-Cloutier. "Our trips have learning goals, and every organization has its mission, and we're getting to learn that in a very hands-on way."
Much of the physical service completed by the group was cleaning and feeding the animals housed at Possumwood. "There's a learning curve with animal rehabilitation. We offered what we could, and everybody left understanding how their efforts played into the larger mission," said Gagne-Cloutier.
Related Stories