Greg Hemmer: a man, a business plan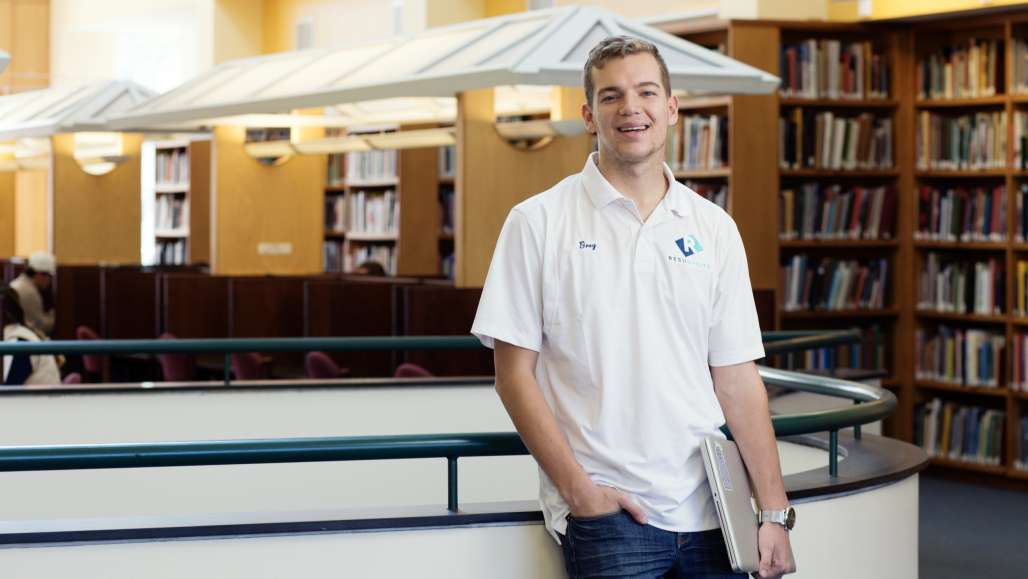 If you're a college student whose questionable online reputation has caused you to miss out on a job or internship opportunity, never fear. Help is on the way. Keene State junior Greg Hemmer has created a business and a website, resumysite.com, where students can gain control and redefine their online reputation, resulting in a more mature and professional image that will catch the eye of hiring managers.
"I'm just trying to help students and give them a tool they can use to easily represent themselves and change the way our generation is viewed," Hemmer says.
A management major from Londonderry, New Hampshire, Hemmer can speak from his own experience. When he failed to get an internship, he did some research and found out he wasn't alone. "Eighty percent of employers are looking up job candidates online before they even call them in for an interview," he notes.
Motivated to help solve the problem, Hemmer went to work. As a final project in his Web Design and Construction class last spring, Hemmer created his own website, complete with resume, photos, and bio. Using search engines that gave his site strong visibility, Hemmer immediately saw the fruits of his labor pay off last summer when he landed a marketing internship at an auto dealership in his hometown. The light-bulb moment hit him like a hammer. Why not replace the outdated resume with a personal website? "We spend all this time and money in college, and all anyone is doing is making a simple word document resume. It's 2016. We have capability to do something better," he reasons.
Hemmer is debunking the conventional theory that students can't start their own businesses. "College is a great time to become an entrepreneur, because you're surrounded by so many friends and connections – not to mention free time and few responsibilities," he says. "I've been working hard on this every day. It has taken over my life."
Not quite ready to go on Shark Tank, Hemmer and his partners are busy streamlining their presentation before heading out on the college circuit to sell their company to students. The feedback has been very encouraging, he says. "Students love the idea and the schools have been very welcoming. They understand it's a very useful tool for their students."
Resumysite is very appealing to students, Hemmer says, because it's not only user-friendly and completely customizable, but it truly represents, online, who they are.
After building their credibility, Hemmer and his partners hope to attract an investor so they have the financing in place to create the company platform and start making sales. While Hemmer hopes to eventually cash in on his idea, he's also motivated to help his fellow students. "I care about college students a lot and it angers me when they can't get a job or the job they want when they graduate," he says. "That's the main inspiration to me. If my new company helps students get hired and makes their lives less stressful and more happy, then I'll gladly do that for them."
— Stuart Kaufman
Related Stories