Global Fellowship Program Brings International Genocide Scholars to Keene State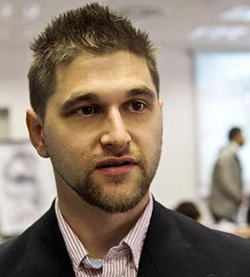 Each fall semester, beginning this fall (2017), Keene State will be welcoming an international scholar to campus as part of the Global Fellowship program, a joint initiative between the College and the Auschwitz Institute for Peace and Reconciliation (AIPR). The Global Fellows are selected from a pool of international alumni from AIPR's past programming.
Each Fellow will live on campus for the entire fall term, have a meal plan and office space, and be immersed in the life of the College. He or she may enroll in eight credit hours of classes (two full courses) with a full waiver of tuition and fees. They may audit any additional courses at no cost. Upon completion of the fellowship, successful participants will receive a certificate of completion co-signed by KSC and AIPR.
Hikmet Karcic, a PhD candidate at the International University of Sarajevo, Bosnia-Herzegovina and a researcher at the Institute for Islamic Tradition of Bosniaks, will be the program's first Global Fellow, and he should be on campus in late August, 2017. His research focuses on the mass atrocities that have occurred in the Balkans over several years, especially, those committed during the Bosnian War (1992–1995). "My main motivation for applying to the KSC-AIPR Visiting Global Fellow at Keene State College is the unique opportunity to gain more knowledge about genocide and Holocaust studies," Karcic said. "I wish to expand my understanding by a comparative approach, which I hope to experience at Keene State College. I am convinced that the knowledge and experience I receive during this program will definitely benefit my future academic research capabilities."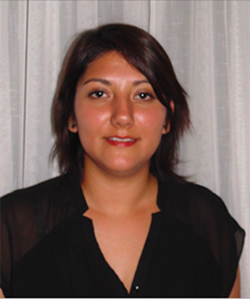 For the fall 2018 semester, Keene State will welcome Patricia Fernanda Perez Valdes from the Museum of Memory and Human Rights in Santiago, Chile, where she works as as a teacher, mediator, and investigator in the fields of education, human rights, art, memory, and transitional justice. The museum works to reveal the human rights violations committed during Chile's military dictatorship from 1973 to 1990.
"I believe the fellowship will provide me with the necessary tools to develop programs for different institutions in pursuit of the prevention of crimes against humanity, the value of human rights, and the construction of a better society," Valdes explained. "Without doubt, this is a most important opportunity for me to continue my professional and academic development and specialize in the field of genocide and mass atrocity prevention."
"We are excited for the diverse ethnic, religious, and international voice Hikmet will bring to our campus," said Jim Waller, Cohen Professor of Holocaust and Genocide Studies, "and for the diverse perspectives Patricia's voice will bring, particularly in the area of education, art, human rights, and memory."
Related Stories