CW5 James Hogg '89 – Still Making the Grade after 26 Years of Military Service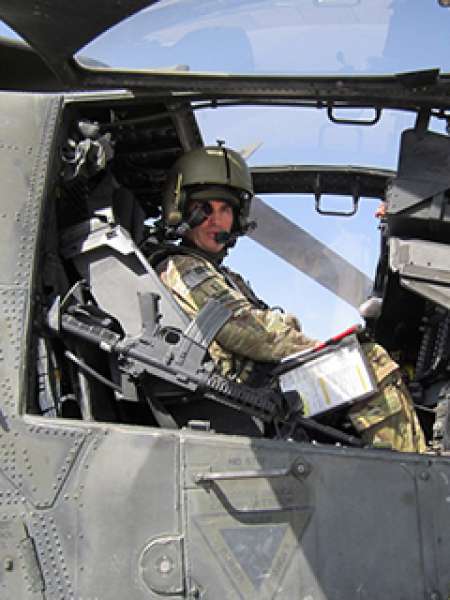 Keene State Management major James Hogg '89 has sure learned how to manage a career in the US Army. He's currently finishing up 26 years of military service as a Chief Warrant Officer Five, the fifth, and highest, Warrant Officer rank in the Army. CW5s are considered to have mastered the technical and tactical aspects of their field.
And CW5 Hogg didn't get where he is by sitting behind a desk. "I have just recently returned to Afghanistan as an AH-64 Apache Helicopter Pilot. I've previously served in Bosnia-Herzegovina, Iraq, and three previous tours in Afghanistan. In past assignments I served as an AH-64 Apache pilot and aviation safety officer/accident investigator at the Company, Battalion and Brigade level. In my current capacity as the 16th Combat Aviation Brigade (CAB) Command Chief Warrant Officer (CCWO) I serve as the principal warrant officer leader for the CAB, advise and assist the CAB commander, subordinate commanders, staff, and warrant officers on all aspects of CAB operations. … Bonus: I get to fly the new Apache E Model. Cruising around in a $35 million helicopter is awesome, aside from the occasional case of flying-lead disease (bullets)."
He considers his time at Keene State to be crucial in helping him along in his military career, including the preparation it gave him for the academic challenges of rotary-wing flight school – and beyond. "Definitely having a BS helped in getting selected for promotion to Chief Warrant Officer Five back in 2012," he said. "The competitive level for that rank is extremely high with almost all considered officers having over 20 years of service, multiple combat deployments, and hundreds of flight hours in combat. Many have performed at the Brigade level or higher. The selection rate is around the 15–19%. … and if you don't make it, it's one of those 'up or out' things with the Army, where you start your retirement.
"I could not be more proud to serve with the thousands of US service members stationed at home and overseas. Unless you've walked in their shoes (boots) you cannot truly appreciate the hardships and personal sacrifice's these young men and women (and their families) have endured in the name of patriotism, honor, and selfless service."
Follow the official 16th Combat Aviation Brigade on Facebook.
Related Stories