KSC Chamber Singers – Building Community through Beautiful Music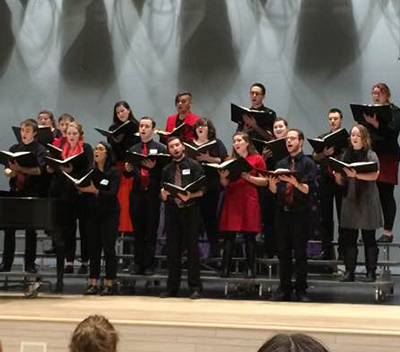 Drawing upon their long tradition, the KSC Chamber Singers continue building musical and interpersonal bridges between the College and community through a series of outreach performances and choral exchanges with local and international choirs. In November 2016, the Singers travelled to three Vermont schools to sing with and learn from choirs led by KSC alums Steve Cady '02 at Vermont Academy and Lisa Bianconi '89 at Kurn Hattin Homes for Children, and KSC cooperating teacher Mary Westbrook-Geha at Bellows Falls Union High School. The day offered combined singing rehearsals, performances, discussion about college life, and a shared meal at Kurn Hattin.
In February 2017, the Singers embarked on a two-day tour of schools in southwestern New Hampshire and Massachusetts, which included visiting public school choirs led by KSC's cooperating teachers at Chesterfield School (Alison Schoales), Gardner High School (Joanne Landry), and Oakmount High School (Kris DeMoura). Leading music educators at Fall Mountain Regional High School (Lillie LeBlanc), Longmeadow High School (Kayla Werlin), and Lunenberg High School (Caryn Wardlaw) also hosted the singers for enriching collaborative music experiences. The Chamber Singers delivered a special performance at the Florence Pie Bar (Florence, MA), owned by former KSC Music Department piano faculty member, Dr. Maura Glennon. The students were also so delighted to collaborate in a 'sing for pie'!
In May 2017, 14 members of the Chamber Singers are traveling to Einbeck, Germany, with Dr. Sandra Howard, Dr. Nicholas Germana, and Dr. Paul Vincent to perform a series of international concerts, sing with Einbeck choirs, and visit area historical and educational locales. The Keene-Einbeck Partner City tradition has been in place for more than 10 years and has involved community members – including high school students, city officials, singers, and teachers – in a series of cultural exchanges. The KSC Chamber Singers are the first campus-based organization to be invited to continue this partnership.
Three students have served as assistant conductors this year: Thomas Kendrick '17, Emma Nelson '18, and Matthew McGinnis '18.
"Being able to tour with the Chamber Singers is an enriching experience," Emma Nelson said. "We not only perform various places, but we also work with school choirs of all ages. It's a hand-in-hand effect; we help others learn while we learn from them. Going to Germany is definitely exciting. Not many people can say that they got to travel doing what they love. I'm very thankful for this opportunity and the people that have helped to make it happen."
"Traveling as a choir and sharing our art with many different communities is so special as a co-curricular experience to us as students and singers," explained Matthew McGinnis. "It adds a deeper layer of bonding to our choir experience. Traveling together and creating with different people gives us the opportunity to have a more well-rounded experience and we're all so grateful to Dr. Howard for creating these experiences for us!"
The Singers are grateful to be funded by the Music Department, ACDA student chapter, and generous KSC grants including the Performing Arts Student Travel Fund, Field Experience Engagement Fund, Center for Creative Inquiry Fund, Faculty Enrichment Grant. The ensemble is open by audition to any KSC student (including non-Music majors) during the first week of the fall semester – this year, members also come from such disciplines such as theater, geography, and architecture.
Related Stories