First-Year Spanish Student Presents Research at Academic Excellence Conference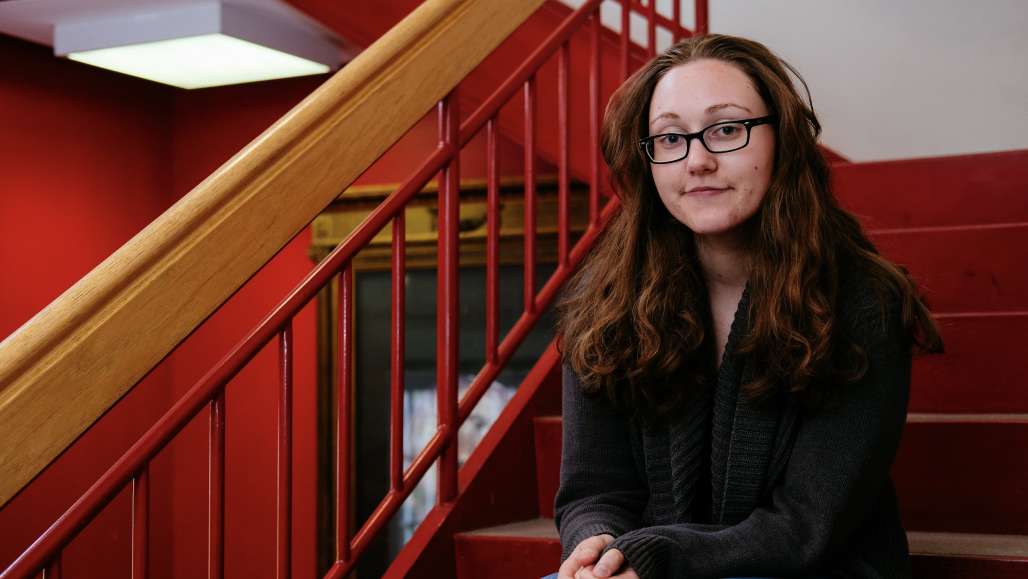 Bryanna Weigel '21 is transitioning into college life, and she brought her passion for Latin culture with her to Keene State. Now by finding opportunities at the College, she's taking her interest in South America even further.
After spending two years abroad in Peru after graduating from high school, where she became bilingual, Weigel came to Keene State to continue her education in Spanish. During her first year here, Weigel presented at the Academic Excellence Conference (AEC) her research formulated during Dr. Lisa DiGiovanni's class, Spanish Conversation and Composition. You can download her Powerpoint presentation here.
"My AEC presentation focuses on gender in the historical period of 1931 to 1975, and it focuses on how gender was used for the benefits of the two regimes — the Second Republic from 1931-39 and the Franco dictatorship from 1939-75, which was similar to Nazi fascism," said Weigel. "I incorporate grade school textbooks from the eras to show how they were changing gender roles and gender norms from the roots, up."
What surprised even Weigel during the process of creating the project was the transformative experience she had while researching the subject matter. Specifically, Weigel found that she had an interest in the roles that women play in historical scenarios as well in contemporary life. This discovery led to Weigel adding a Women's and Gender Studies (WGS) major.
"I wrote this essay before I took a women's and gender studies class, and I am now seeing how important it is to highlight how gender is used," said Weigel. "I didn't think I was going focus on women at all, and I didn't think I was going to be a WGS major. Writing that essay, I really surprised myself with how strongly I felt. Taking a WGS elective really solidified that I want to pursue this. I didn't even consider myself a feminist before coming to college, so it's big for me."
Going forward, Weigel said she is continuing to do research into similar subject matter with Dr. Dottie Morris, who leads diversity and multiculturalism efforts at Keene State, in hopes of deeper dive into her education.
"I have an independent study with Dr. Morris where we're doing research that examines racism, colonialism, and imperialism in Africa as well as the United States," said Weigel. "I think that's what college is all about, finding something you're interested in and doing the research because it's going to highlight your strengths and provide future opportunities."
Future opportunities abound for Bryanna. Next, she will be recognized for her work at Keene State's Honors Convocation in May.
Related Stories