Albany Records Releases Music Professor Heather Gilligan's Debut Album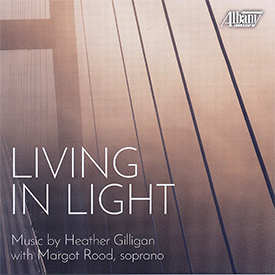 Associate Professor of Music Heather Gilligan has just released a CD, Living in Light, with Margot Rood, soprano. The six song cycles (comprised of 3–4 songs each) on the album are her compositions: "Living in Light" (soprano and cello), "Garden Songs" (soprano, trumpet, and piano), "Mixed Metaphors" (soprano and piano), "Winged Reflections" (soprano, saxophone, and piano), "Battlegrounds" (soprano and string quartet), and "Finer Points" (soprano and percussion).
The Music Department's Resident Artist, Christopher Swist, recorded and edited the CD, and three of the tracks include Music Lecturer Seelan Manickam's performance on trumpet.
Living in Light is available on Amazon.
Related Stories