Safety Alum Returns to Campus in Search of Employees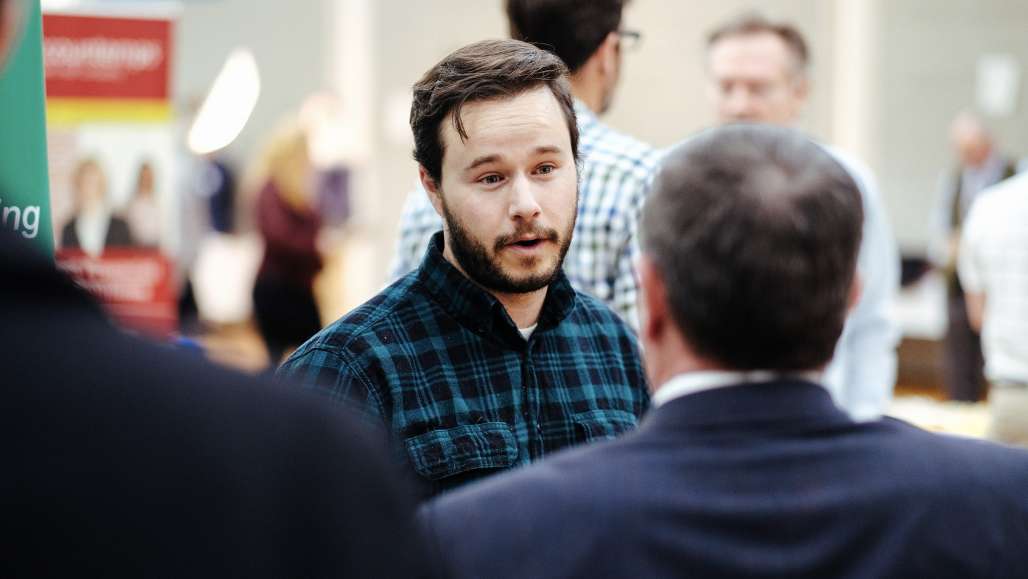 Since Bennet Evans graduated from Keene State's Safety and Occupational Health Applied Sciences program in 2005, he has built a successful career. He is now working with Triumvirate Environmental, and regularly returns to Keene State to recruit new employees because of the continued success that his company has with the college's graduates.
Evans, who started with Triumvirate as an environmental specialist has used the company's growth to ascend to a management position with the firm, and now focuses on recruiting and employee engagement. "My focus is on who we bring in, and how they are trained to ensure success, and that we celebrate success," said Evans.
Triumvirate has provided consistent opportunities for Safety and Occupational Health Applied Sciences students from Keene State and the connection begins at Keene State's career fair, titled Your Future Fair. "The safety major at Keene State has consistently been a successful one for us," said Evans. "The types of students who study at Keene State are usually looking to get a great education and turn it into an excellent career. It's satisfying to come here knowing that 70 percent of the people that I talk to will be interested in our work," he said.
Evans said that Triumvirate is successful with recruiting not only safety-oriented students, but also students studying environmental studies and management. "The career services staff at Keene State understand us as a company, and they direct students to us when they think there's a mutual benefit," said Evans. "I also have a good rapport with professors from my own education and they are dedicated to helping their current students to find a job," he said.
Triumvirate creates programs for companies to properly dispose of chemical waste created from business processes. Because Triumvirate's employees work mainly around dangerous materials, even their human resources members are constantly paying attention to safety.
"Safety is a core theme throughout the company, regardless of your role. I'm in human resources and we also hold people accountable to being safe all day, every day," said Evans. "We work with DOT, OSHA, and EPA regulations, so the classes I took on topics such as toxicology, chemical hazards, hazardous materials, and environmental policy and law gave me an understanding of the regulatory framework, and how we put it into action."
Related Stories