An Evening of Dance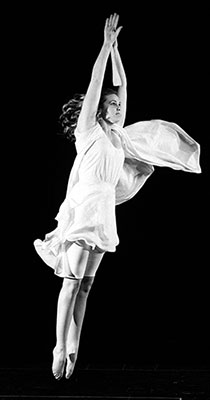 Dance Premieres by Choreographer-In-Residence and Retiring Dance Program Director
A specially commissioned dance by Doppelganger Dance Collective will premiere with a new dance by Marcia Murdock, KSC's retiring Dance Program director, along with two new pieces by dance faculty during An Evening of Dance, on Wednesday, April 12 through Saturday, April 15, at 7:30 p.m. in the Main Theatre of the Redfern Arts Center. For tickets, contact the Box Office at 603-358-2168, or order online at keene.edu/arts/redfern.
The Redfern's 2016-17 Choreographer–in-Residence Doppelgänger Dance Collective (DDC) will present The Head or the Hair choreographed by Shura Baryshnikovand Danielle Davidson. This choreographic whirlwind is danced to the original sound score Drought by Nate Tucker.
KSC faculty member Cynthia McLaughlin will premiere a new dance by a quartet of women which investigates the shadowed corridors of the human condition. Music is by Parallel 41, Anna and Elizabeth, Evelyn Glennie and Michael Brauer.
KSC dance faculty Shaina Cantino, choreographed in collaboration with the dancers a new work called It's a question. Working as an ensemble, these 14 Keene students create a collage of physical dynamics, exploring longing, striving, knowing and being. Text is by Cantino and music is by Lost Frequencies Radio Edit, Antoine Malye, Ballaké Sissoko, Jóhann Jóhannsson, and Nicolas Jaar.
There are six other dances choreographed by Keene State students.
Makayla Ferrick `17 created Boiled Frogs, an octet of high intensity that further explores the act of rebellion.
Bethany Peterson `18 choreographed Ab origne for a trio, where dancers purposely don't acknowledge each other and perform movement as task, not emotional need; "stripping down to the base level of the human."
Brittany Powers `17 created Zoomie, a quintet that deals with the disorientation of life throwing curves in our path. We are constantly trying to find the place of normalcy, no matter how fleeting it may be.
Amanda Untracht `18 choreographed Brink of Control, a quartet that deals with e xperiences of struggling as a unit. The dancers fight within themselves to break free of the need to stay in one place. Music is by Michael Gordon and Bang on a Can All-Stars.
Jennifer Riley `18 created Shooby, a duet featuring one beatboxer, Karver Bosela, and one dancer, Jen Riley. They explore different forms of vocal percussion, and both find themselves getting lost in the music. Shooby plays with the idea that music can take people out of their reality and into a new world.
Emily Posner `18 choreographed Circuit inspired by her observations of toddlers and adults. Her dance begins and ends with clarity and contentment, while embodying the emotions of anger and confusion for the middle movement material. Silence is the appropriate soundscape for this short slice-of-life solo.
Related Stories