KSC's Concert Band Incorporates Dance & Film in "Locally Grown! Totally Keene!"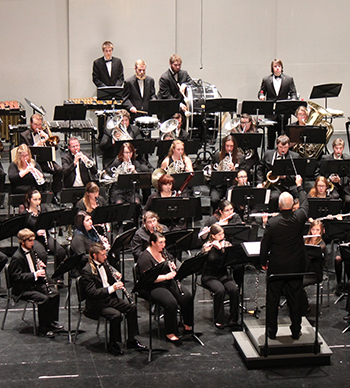 In a wonderful collaborative and interdisciplinary effort, the Keene State College Concert Band's upcoming concert, "Locally Grown! Totally Keene!" celebrates the College's artistic tradition by presenting the blended works of our composers, directors, choreographers, dancers, video artists, and musicians. The concert takes place on Thursday, March 9, at 7:30 p.m. in the Redfern Arts Center's Main Theatre.
The evening includes a premiere of For Whom the Bell Tolls, a new work for concert band by Associate Professor of Music Heather Gilligan. Assistant Conductors Callie Carmosino and Hailley Dufresne and Guest Alumni Conductor Samantha Fowler '15 share the podium with Associate Professor of Music James Chesebrough. KSC senior Joe Conti will be the trumpet soloist on James Curnow's Concert Piece for Trumpet and Band.
The band has collaborated with KSC Theatre and Dance Lecturer Cynthia McLaughlin, who choreographed a unique dance performance of The Solitary Dancer by Warren Benson. Keene State dancers Amanda Untracht and Makayla Ferri will perform the work in the Wright Theatre during the concert, and Film Studies students Seiichiro Okuma and Sultan Thahir will film it so the performance can be projected in real time onto a screen in the Redfern's Main Theatre.
Also on the program will be music by John Wasson, Eric Whitacre, E. E. Bagley, Steven Reinecke, and Gustav Holst. Tickets are $5/$10 and are available, along with other information, at the Redfern Arts Center box office, 603-358-2168, or online.
Related Stories