Abby Shepherd Explores the Stories of the Women of Keene State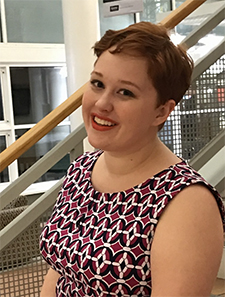 Third-generation Keene State student Abby Shepherd was quick to sign up when she heard about Professor of English and Director of the Integrative Studies Program Mark Long's new seminar, Narrating the Public Liberal Arts (NAPLA). He'd designed the course as a storytelling project to collect and publish stories that capture the identities, cultures, histories, and environments related to a public liberal arts education, and Shepherd, an enthusiastic learner whose parents and both of her grandparents went here, was a perfect student. The course is part of a COPLAC (Council of Public Liberal Arts Colleges) initiative in multi-campus, team-taught, distance learning in digital scholarship, and therefore is open to students from any of the COPLAC member institutions – Abby's project developed alongside similar projects at SUNY Geneseo and the University of North Carolina–Asheville. Similar to the Story Corps project, the course invites students to build an on-line resource that chronicles the stories and life experiences of their college's students, alumni, staff, and faculty.
Though the English major is only a sophomore, Shepherd also stepped up when Dr. Long asked her to be Keene State's representative in this seminar. As a result, she created The Women of Keene State, in which she recorded interviews from a variety of women who attended the College, including Norma Walker '51, current student Theresa Derry (2020), and Theresa's mother Ann Derry '87, to show the impact through the years of one liberal arts college on the women who came here.
"Abby is an amazing person and her multigenerational family story at KSC reflects the College's impact on our community," Dr. Long explained. "The impressive curiosity and motivation she demonstrated in my 100-level American Studies course on the natural and cultural history of California led me to invite her to participate as our representative."
Shepherd's pathway into the project became clear when she discovered Film Professor Emeritus Larry Benaquist's documentary on the history of Keene State, Enter to Learn, Go Forth to Serve. His interviews with several alumnae from the early days of the College got her interested in the female-narrative aspect of life on campus. "He interviewed women whom I found very compelling and endearing," Shepherd said. "I decided that I was going to develop the project in a women-centric direction because of those stories in the film." Her project, The Women of Keene State, gathers not only oral narratives but also historical accounts and archival photos. She gave an online presentation of her project to college librarians, archivists, faculty, and administrators from COPLAC schools, and she'll present the information again at the Academic Excellence Conference on April 8, 2017.
Dr. Long will be co-teaching NAPLA again, most likely in the fall of 2018 – stay tuned!
Related Stories