World Premiere of Jordan Chase '14's Composition, Forthcoming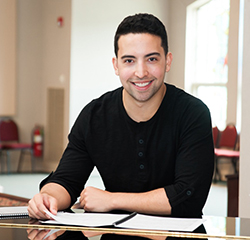 Back in 2013, music composition major Jordan Chase '14 became the first Keene State Arts & Humanities student to win a SURF grant. During that fellowship, he composed Foreign Comfort, a piece for chamber orchestra. And that accomplishment gave him the distinction he needed for further serious music study. "It was absolutely critical for my master's applications," Chase said. "Without the SURF grant, I would not have been eligible to apply for graduate programs in the fall of 2013."
From Keene State, Chase went on to pursue a master's degree at the Longy School of Music of Bard College. There he completed an orchestral work, Forthcoming, (listen to it here) in the spring of 2016 for his master's thesis. It was selected as the winner of the Longy Conservatory Orchestra Composition Competition, and the Longy Conservatory Orchestra performed its world premiere last December in Bard College's Edward M. Pickman Concert Hall in Cambridge, MA. Chase graduated from Longy with a Master of Music in Composition in May 2016.
Where do you go from there? "I am currently pursuing my Doctor of Musical Arts in Music Composition at the Peabody Institute of Johns Hopkins University," Chase said. "I absolutely credit Keene State College for getting me where I am today. From the first time I stepped foot on campus to to the day I graduated, the entire music department provided me with endless support. The coursework challenged and prepared me with the necessary skills to be successful at the next level. I discovered my passion and forged special relationships with many of the faculty members. Two specific professors, Dr. Heather Gilligan and Dr. José Lezcano, continue to encourage and inspire me to be the best musician and educator I can be. The music department strives to bring the best out of each student and I will forever be grateful for the years I spent at Keene State College."
Want to know more about Jordan, and hear more of his music? Check out his website.
Related Stories