Dr. Christopher Brehme Receives Fulbright Scholar Grant for Research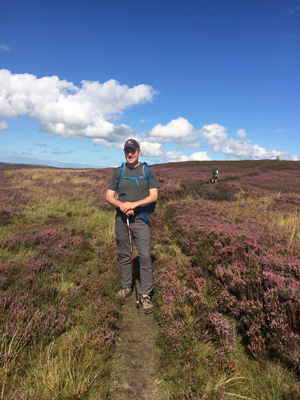 Keene State College Geography Associate Professor, Dr. Christopher Brehme, received a Fulbright Scholar Award from the US-UK Fulbright Commission to conduct research in Yorkshire, in the north of England. Dr. Brehme recently returned from England where he surveyed visitors of North York Moors National Park to determine how they experience tranquility within the park. Dr. Brehme was hosted by the Stockholm Environment Institute, based at the University of York. UK national parks are mandated to protect tranquility, however little is known about how it influences visitors' experiences. The results of Dr. Brehme's research will assist park planners and tourism managers in making decisions about future planning proposals and tourist accommodations.
"The Fulbright Award was an incredible opportunity to apply my research background in natural resource conflicts and spatial analysis to the context of a national park. The park staff were excited to have me produce a baseline of tranquility that will support their day-to-day work, and ensure that this special quality is maintained in the future," said Dr. Brehme. "I'm thrilled to share what I've learned with our students, and to expand my research to parks here in the US. Already, I am working with a geography student to employ similar methods in a summer research project here in Keene."
As a Fulbright Research Scholar, Dr. Brehme surveyed the perceptions of tranquility from park visitors over a four-week period. The concept of tranquility is greatly valued by residents in the island country of 64 million people and it provides a public health benefit. He asked park goers to identify particularly tranquil and non-tranquil places on a paper map, and then elaborate on what characteristics these places share. Dr. Brehme is analyzing the data that he collected, which will culminate in a report and a GIS model to visually represent the results. He will eventually produce a series of maps that highlights the most threatened areas of tranquility within the park.
"Fulbright Scholarships in the UK are managed by a separate US-UK Fulbright Commission, and are very competitive. In fact, only three percent of the scholars who are considered for a Fulbright Scholarship in England are chosen. The selection of Dr. Brehme for this Fulbright Scholarship is an example of academic excellence at Keene State College," said Keene State College Provost William Seigh. "I congratulate Dr. Brehme on this prestigious research opportunity, and I look forward to our faculty's continued participation in the Fulbright Scholar Program."
The Fulbright Scholar Program is sponsored by the US Department of State, and administered by the Council for International Exchange of Scholars. This recognition makes Keene State College a top producer of Fulbright Scholars among institutions of its type and size offering primarily baccalaureate programs.
For more information about the Fulbright Scholar Program, visit http://www.cies.org/.
Related Stories