USNH Schools Collaborate to Bring Greek Trilogy Project to KSC in March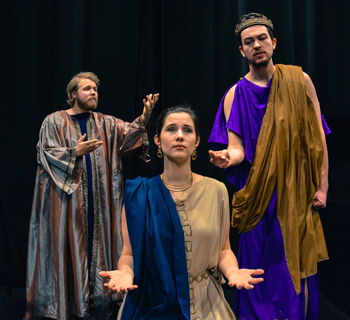 Monadnock region theater goers will have a rare opportunity to see three Greek tragedies at Keene State College as part of a collaboration among three schools in the University System of New Hampshire. Each of the schools will present one play from what's considered the most famous of Sophocles' plays, "The Oedipus Cycle", for Keene audiences in March on the Main Stage of Keene State's Redfern Arts Center.
Antigone, presented by Keene State College Theatre and Dance Department, directed by PeggyRae Johnson, will be staged Wednesday and Thursday, March 1 and 2 at 7:30 p.m. and Sunday, March 5, at 2 p.m.
Oedipus at Colonus, presented by the University of New Hampshire, directed by CJ Lewis, will be staged Friday, March 3 at 7:30 p.m.
Oedipus the King presented by Plymouth State University, directed by Elizabeth Daily, will be performed Saturday, March 4 at 7:30 p.m.
Tickets to each play presented at Keene State are $10 for adults, $8 for seniors and youth, and $6 for USNH students. Discounted tickets to see the entire cycle are $18 for adults, $15 for senior citizens and youth, and $12 for USNH students. For tickets, call the Redfern Box Office, 603-358-2168 or order online at keene.edu/arts/redfern.
This exciting project will give students the opportunity to tour with their productions and view the work of their peers at each campus and offers audiences throughout New Hampshire the opportunity to view The Oedipus Cycle three stories of the Oedipus myth that deal with the curse brought upon the house of Oedipus through four generations. Each campus will set their stage so the other troupes don't have to travel with scenery, but will simply transport the actors and costumes. Keene State will travel to the University of New Hampshire in Durham on February 25, return to Keene to present Antigone at KSC, and then travel to Plymouth State University on March 8.
There are benefits for students and audiences to see three different approaches to these classic Greek plays as each director is able to place his/her own interpretation on their production, explains KSC theatre faculty PeggyRae Johnson, who directs Antigone, which follows the title character as she defies King Creon and buries her brother killed in battle, ending the Theban Civil War.
"Modern day critics often focus on the polarizing perspectives in Antigone, particularly the division of loyalty between belief in the gods versus belief in the state," said Johnson. "But such divisions are limited in view of the universal truths Sophocles presents in this very human exploration of two people who cannot realize they are both seeking order and balance in their society. We decrease our appreciation of Sophocles' wisdom if we see only the duality of the arguments between Creon and Antigone."
Antigone is an exploration of loss that speaks to the universal human appeal of the Greek classics. "We continue to make our lives out of chaos and hope just as the Greeks did. The Greeks lived under decades and decades of civil war. They knew terrible chaos, but also subscribed to hope."
Antigone has a large cast of KSC students including a Greek chorus. Heather Hunt of Gilmanton, N.H. plays Antigone and Kenon Veno of Edgartown, Mass. is Creon. Other cast members are Katharine Demers of Concord, N.H., Ashley Gage of Agawam, Mass., Matthew Geary of Exeter, N.H., Tony Gentile of Plaistow, N.H., Jacob Lavoie of Nashua, N.H., Justin Posnanski of Manchester, N.H., Than Spence of Durham, N.H. and Ethan Sweetland of Granby, Conn. The chorus includes Mikey Pion of Lincoln, R.I., Ashley Rollend of Litchfield, N.H. and Gillian Shannon of New London, N.H. The stage manager is Katie O'Leary of Portsmouth, N.H. Assistant stage managers are Luke Sweeney of Sea Cliff, N.Y. and Katrina Tuck of Rockport, Mass.
The Greek Project was made possible through the support of the UNH Department of Classics, Humanities and Italian Studies, John C. Rouman Classical Lecture Series, and the University System of New Hampshire Office of the Chancellor.
Contact: Jackie Hooper, 603-358-2173; jhooper@keene.edu
Related Stories