Coming up This Spring – Fun Alumni Events!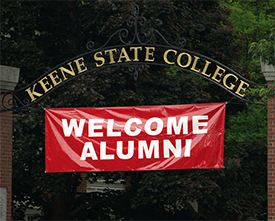 No matter what your interests, there's a series of events coming up this spring that'll keep those fond memories you made at Keene State alive and fresh. Here are just a few to whet your appetite:
• Wear your finest red and come to the Spaulding Gym on February 8th for Red Out Night, when the KSC men's and women's basketball teams take on Plymouth State.
• If you're in Florida on February 25th, join fellow alumni and KSC President Anne Huot and Dr. Joanne Cepelak at JetBlue Park in Fort Myers for a Red Sox spring training game against the Twins.
• Love great theatre? Join fellow alums at the Palace Theater in Manchester, N.H., on March 5th for a Sunday matinee performance of Hairspray! And don't miss the pre-show reception.
• If just hanging and networking with fellow alums is more your thing, join the team for an evening social in Boston at the Lir Irish pub and restaurant on Boylston St.
Want more info? Visit the Alumni and Constituent Relations Events page for complete details. Questions? Contact the Alumni Office at alumni@keene.ed or 603-358-2369.
Related Stories