Rachel Perreault '15 Brings Her Safety Training back to Campus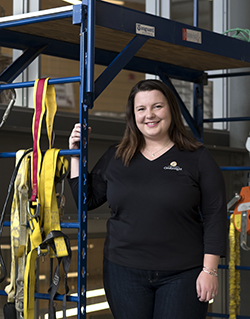 You might believe that it's not until you get out in the real world that you really learn the practical knowledge you need on the job. But Safety & Occupational Health Applied Sciences grad Rachel Perreault '15 knows that she got very practical information in the classroom – information she uses on the job every day. And now, she's transitioned her classroom learning into an engaging career that's brought her back to campus just a year after graduation to teach fall protection to the Physical Plant staff.
The Exeter, N.H., native had lined up eight interviews before she graduated, and decided on a job with GeoInsight, an environmental strategy and engineering firm with offices in Manchester, N.H.; Littleton, Mass.; York, Maine; and Middletown, Conn. She works for the company's compliance department, which helps clients comply with OSHA, DEP (Department of Environmental Protection), and EPA regulations, among others.
Perreault returned to campus when GeoInsight was hired to do a fall protection/hazard assessment last June. She and her certified safety professional supervisor went onto the roofs of several buildings and did a safety assessment, based on the type of roof, to determine how Keene State might best protect its employees from falls. That included such options as a safety-harness system, a guard rail, or perhaps just a designated walkway.
Their report cited the regulations that KSC needed to meet, the buildings that needed fall protection, and the options that would provide adequate protection, broken out by cost. "One of the services GeoInsight provides is to keep the options we suggest within a certain budget, so implementing them is not a financial burden," Perreault explained. "We developed a program that provides training that the Physical Plant staff will take at Safety Day in December."
"This was a great opportunity because I learned about the Safety profession here, and now I'm able to implement my knowledge and help the college out. It's been really rewarding," she said. "My classes at Keene State taught me to learn how to interpret regulations. At my job now, I take a regulation, I interpret it, and I apply it to my client's situation, or facility, or recent event. Keene State taught me how to find an applicable regulation, how to take it from obtuse regulatory language and put it into language that ordinary people can understand. Keene State prepared me to learn further."
Related Stories