Music Performance Major Looks to Teach at the College Level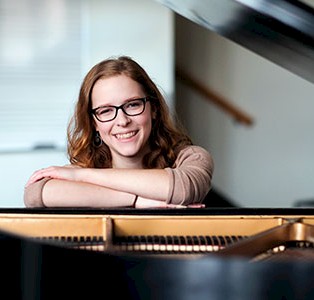 Keene State music performance major, Hannah Benoit '17, is reflective when looking back on her path from music education major to a desire to teach music at the post-secondary level.
Benoit, a pianist from Hardwick, MA, initially came to Keene State with an eye on teaching music somewhere in the K-12 range. But as she progressed toward this goal, she began to feel that her talents would be better suited to working with older music students.
"I originally came in as an education major, which means I would have been teaching in a kindergarten through twelfth-grade setting, but as I went through the program here I realized that being a professor is really what I want to do," said Benoit. "I like working with older students and having in-depth conversations about music with them. With elementary school kids, I was concerned that I wouldn't have this opportunity as much."
Hannah said her passion to become a music professor came from the experiences she's had with her own teachers at Keene State.
"The music faculty here are incredible. They share their knowledge with my classmates and me and we grow from that," said Benoit. "There are a number of students in the program who come in without a classical background and they're still allowed to experience classical along with what they're interested in. Professors here are nurturing, and whatever you have a passion for they will help you grow that even more."
Being from Massachusetts, where there are number of prestigious music performance programs, Hannah is happy with her decision to attend Keene State.
"When I visited campus, I saw such a strong connection between students and faculty. It was the opposite of what I imagined for a college setting," she said. "I also found that I wanted a college in a small city, and that I really enjoyed the way Keene State is so welcoming. Every faculty member, especially in the music department, truly cares about helping their students succeed."
Related Stories