Caitlin English '10: Living Linguistics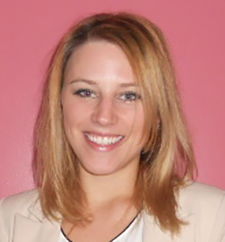 Everyone who speaks uses their mastery of linguistics every day, but most of us know very little about the technical aspects of this critical skill that flows from us almost unconsciously. So Associate Professor of Modern Languages and Cultures Stephen Hawes was delighted to hear from a former student, Spanish and Communications dual major Caitlin English '10, about the value she gained from his linguistics class. The class got her hooked on the subject, and she presented "Linguistics of Ecuador" at an Academic Excellence Conference in 2009.
English is now living in Madrid, finishing her master's degree in Filología Española with a specialization in Lingüistica. She wrote to Dr. Hawes for recommendations on PhD programs in the US that specialize in sociolinguistics, mentioning that after graduation from Keene State, she worked as an ESL (English as a Second Language) teacher in Lawrence, Massachusetts, where most of her students were Dominican, and that experience showed her the real-world value of her linguistics training. "That's when linguistics came to life," she explained. "If I hadn't taken your class I might not have been able to see farther than 'this Spanish is different.' What I was able to hear was elision of /s/ and lexical variations. So, thank you for offering that class at Keene State."
"It was a joy having Caitlin in the class," said Dr. Hawes. "While it was quite challenging, she was enthusiastic about the content and wrote a research paper on Ecuadorian Spanish that left me speechless. I invited her and a few others from the class to present their research at the Academic Excellence Conference to which she quickly agreed."
Related Stories