Thorne Gallery Receives Gift from Trowbridge Family and Yankee Publishing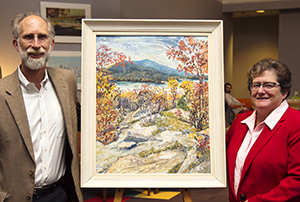 BeaTrix Sagendorph Painting of Mount Monadnock and Dublin Lake Donated to Gallery for Community to Enjoy
Keene State College Thorne-Sagendorph Art Gallery recently accepted a generous donation to the Thorne permanent collection from Jamie Trowbridge on behalf of his family and Yankee Publications. The painting is by artist, matriarch, and innovator BeaTrix Sagendorph. Titled "Mount Monadnock, N. H., and Dublin Lake," the piece is a unique depiction of a landscape that has inspired generations of artists and nature-lovers.
"The Thorne-Sagendorph Art Gallery is proud to be the crucial venue for art exhibitions and dialogues that the Gallery founders envisioned. This addition builds on our efforts to make the Gallery a community resource for culture and art in the Monadnock Region," said Keene State College Thorne-Sagendorph Art Gallery Director Brian Wallace. "We are honored to receive this donation. Our sincere gratitude to Jamie Trowbridge, his family and Yankee Publications."
BeaTrix Sagendorph (1900-1985) provided the bulk of 50 years of covers for Yankee Magazine. She helped to define the look and tone of the publication through the force of her personality and via design and editorial discussions and decisions. Deeply connected to the Monadnock Region through her art and her family, Sagendorph produced hundreds of artworks that, in a host of ways, captured the moods, views, changes, and the constants that define the southern corner of New Hampshire. She also championed arts and culture organizations – including the Thorne-Sagendorph Art Gallery – and supported individual artists throughout her long life. The donated work is a symbol of the broad cultural reach and deep community roots of an artist whose works have defined – and in a certain sense defied – our sense of the Monadnock Region.
Related Stories