Keene State College Hosts First Annual NH-INBRE Conference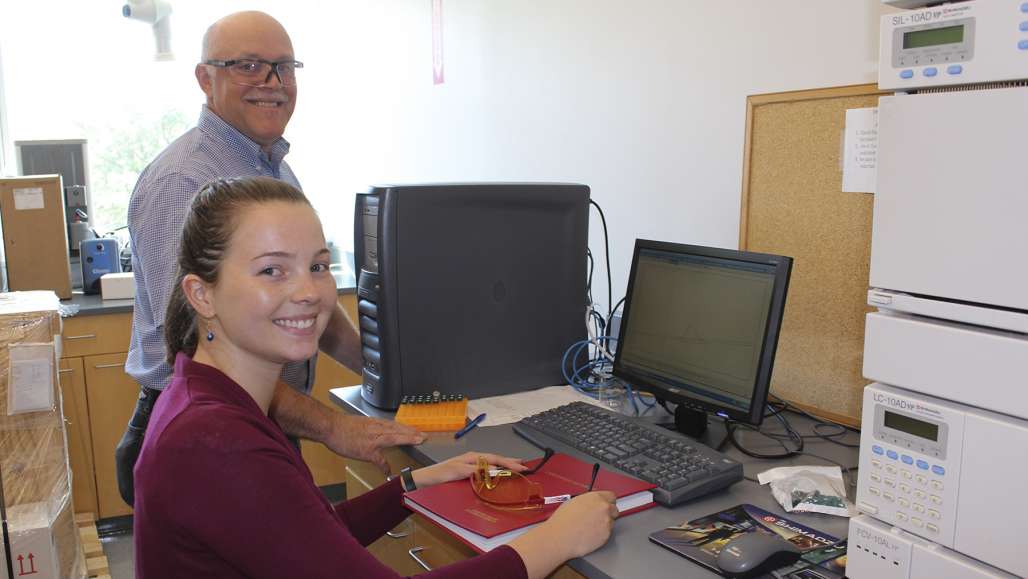 On Thursday, October 13, the Keene State College branch of the New Hampshire IDEA Network of Biomedical Research Excellence (NH-INBRE) held its first annual conference in order to explore, examine, and promote the work that INBRE scholars have done at Keene State College.
Nearly 60 Keene State faculty, staff, students, and administrators convened on campus with regional partners and alumni from institutions such as Harvard, University of New Hampshire, and Dartmouth Hitchcock Medical Center to listen to the processes and outcomes of INBRE research at Keene State. Faculty presenters at the conference included chemistry professor Dr. Paul Baures, psychology professors Drs. Larry Welkowitz and Tony Scioli, and Distinguished Teacher of the Year and Biology Professor Dr. Loren Launen.
President Anne Huot and Sciences and Social Sciences Dean Gordon Leversee welcomed attendees from Keene State's campus and beyond before a panel of former Keene State students familiar with INBRE work discussed the impact that the INBRE program had on them both academically and professionally.
Panelist Emily Neverett, a graduate of the Biology Program at Keene State and now a lab technician at Harvard's Department of Organismic and Evolutionary Biology Lab, said of her time with Dr. Jason Pellettieri, "Without my research experience there's no way I would have ever gotten a job like this. Dr. Pellettieri wanted us to contribute, and he expected us to be present at lab meetings and fully aware of what's going on. He peppers you with questions to make sure you know what's going on."
Following the panel, Keene State's current recipients of INBRE funding spoke to the way that the initiative supports their own research and how this support allows them to proffer their knowledge to students through research. To complete the conference, the students themselves presented the research with which they have been working throughout their time at Keene State.
Since 2010, INBRE has invested $2.2 million in biomedical research and allowed direct engagement through research assistant positions with no less than 90 students with the average number of hours of support for each student totaling 500 hours of direct research experience.
With the experience gained from working directly with research faculty, the average GPA for these students is 3.4, and 67 percent will pursue and master's degree or PhD in the field of science or health.
NH-INBRE is a state-wide initiative led by the Geisel School of Medicine at Dartmouth College and the University of New Hampshire designed to develop a coordinated network of biomedical research and training. INBRE supports research in human health, neurobiology and behavior, molecular and cellular biology, and microbial pathogenesis. NH-INBRE is supported by an Institutional Development Award (IDeA) from the National Institute of General Medical Sciences of the National Institutes of Health under grant number P20GM103506.
Related Stories