Meet the New Faculty: Dave Beaudry, Management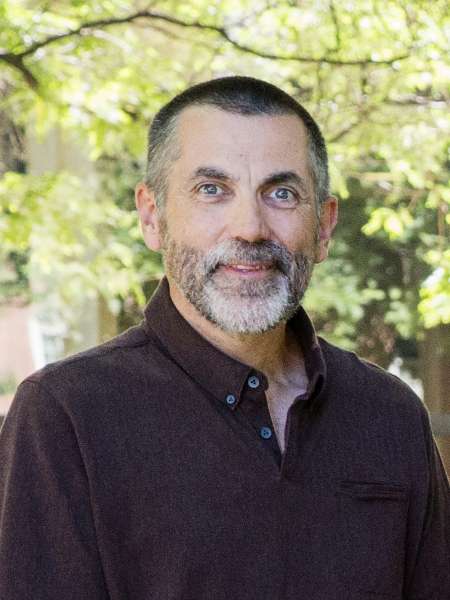 One of the first topics that new management faculty member Dave Beaudry spoke to his students about was change - how things change in their lives and how their ability to adapt to those changes will lead to success.
Beaudry can speak from experience. Peering out his office window on the second floor of Blake House, Beaudry reminisced about his days as a student at Keene State and the vast changes that have occurred on campus since he earned his associate's degree in industrial electronics from the College in 1982. "I graduated from Keene State in a program that no longest exists, in a building that no longer exists and with faculty that no longer exists," he said. "Life changes and it's all about adapting to change."
Like many students coming out of high school, Beaudry didn't quite know what he wanted to do. When aspirations of following in the footsteps of hometown hero and baseball Hall of Famer Carleton Fisk faded at a young age, the Charlestown, New Hampshire, native spent a year doing construction before an interest in electronics landed him at Keene State.
From there, Beaudry mixed and matched a career that found him in the classroom and in industry. During intervals while earning multiple degrees, including an MS in Computer Science from Boston University and a MBA and PhD in International Business from Southern New Hampshire University, Beaudry worked full-time in industry. One of his stops was at Markem in Keene, where he served as a project manager and worked with Daniel Henderson, Keene State's corporate relations officer. "I think it helped me a lot," said Beaudry about balancing academics with real-life experience. "When I did research papers, I would always incorporate something I did through work. It helped me bring new information into the company and bring a fresh perspective to the classroom."
Although he did some stints as an adjunct, including at Keene State in the 1990s, Beaudry began thinking about becoming a full-time teacher while completing his MBA. After leaving industry, Beaudry taught at Mount Wachusett Community College in Gardner, Massachusetts, before coming to Keene State this fall. "Did I make it an objective? No, but it was something I hoped for," said Beaudry about his return to Keene State.
Beaudry, whose youngest daughter Megan graduated from Keene State last year, will be busy this semester teaching an Introduction to Management course as well as two sections of Organizational Theory and Behavior. In addition to presenting a general overview of the subject, Beaudry hopes that his students also understand how management has evolved over time.
Beaudry is the first to say that change is not only good, but necessary. "If I try to emulate the style of my previous professors, that wouldn't work," he explained. "You have to model your style to what's going to work in the present day. It all goes back to change and being a lifelong learner."
Related Stories