Transfer Student Finds the Right Fit at Keene State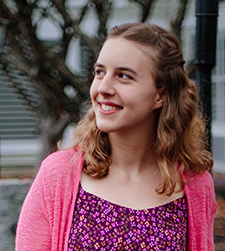 While the vast majority of new students come to Keene State from high schools near and far, some arrive on Appian Way from other campuses. Keene State College welcomed over 150 transfer students this fall, including Autumn Rose Lester from Elmira, New York.
Lester, who comes to Keene State from Corning (NY) Community College, says being a transfer student is like a double-edged sword. "On one hand, I feel I'm coming in with more life experiences, but on the other hand I'm still a new student to Keene," said Lester who was aptly named after being born on the first day of autumn.
Growing up with a passion for music, history, and a variety of other things, Lester played the violin and piano and served as a tour guide at the Chemung Valley Living History Museum in Corning. Although she was home schooled, Lester began taking classes at Corning Community College (CCC) as a junior in high school, earning a semester's worth of credits during her last two years of high school. Lester would go on earn an associate's degree from CCC, where she developed a strong interest in graphic design. "I never particularly thought of myself as an artist, but I've grown to love the balance of structure and creativity that graphic design offers," she said. "There are rules and principles of design that you constantly have to keep in mind, but you can also be creative within those parameters."
Lester said she always wanted to go to college in New England, and Keene State proved to be the perfect fit, offering a graphic design program and courses in music education. She also liked the comfortable campus and small class sizes.
While Lester enters Keene State as a junior, she will be at the College for three years to complete her bachelor's degree in fine arts as well as a minor in music. Offering advice to other transfer students, Lester said it's important to monitor your credits and make sure they will transfer to your new school. "I was very fortunate that Keene accepted all my credits from my previous school, but not all transfer students have that experience with their credits" she said.
Lester, who is living in a suite at Pondside 3, had another wish come true: "P3 was my first choice residence hall, so I'm very excited," she said.
Related Stories