Terezin Commemoration Begins with Concert and Testimony from Terezin Survivor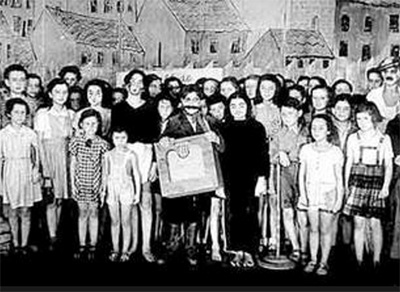 This fall, Keene State College and local community organizations will present a variety of programs as part of a project titled "Voices of Terezin: A Commemoration."  Terezin (or Theresienstadt to the Germans) was a Nazi concentration camp in Czechoslovakia, near the German border, where numerous Jewish artists & intellectuals were sent. The camp was used in Nazi propaganda as an example of a model Jewish settlement, but it was in reality a concentration camp, and many inmates were sent on to extermination centers or died as a result of malnutrition, disease, or mistreatment by their captors.
The fall programs will include concerts (including a performance of Brundibar, the children's opera composed and first performed in Terezin), lectures, art exhibits, film, and the City's annual Kristallnacht observation.
The opening Voices of Terezin event, "Voices of Terezin: Music and Memory," will be held on Monday, September 26, from 7–8:30 p.m. in the Redfern's Alumni Recital Hall. Mrs. Ela Weissberger, a Terezin survivor who as a child sang in the camp performances of Brundibar will talk about her experiences.
Pianist Matthew Odell, soprano Megan McCauley, violist Michael Kelley, and guitarist José Lezcano will perform songs and piano music composed at Terezin.
Related Stories