Biology Professor Dr. Loren Launen Named Distinguished Teacher of the Year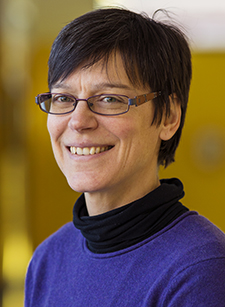 Keene State College announces that Biology Professor Dr. Loren Launen is the honoree of the College's 2016 Distinguished Teacher Award, for her commitment to student success and the field of biology. The award is presented annually by the Keene State College Alumni Association to recognize excellence in teaching, encouragement of independent thinking, rapport with students, and effective student advising. Dr. Launen is the 46th recipient of this distinctive honor.
Many students, colleagues, and alumni nominated Dr. Launen for this honor. A 2011 graduate of the Biology Department said that her "door was open to students for any reason, whether it be about academics, career plans, or to problem solve laboratory issues … I feel confident saying that Dr. Launen was one of the most well-liked and respected faculty members during my time at Keene State."
A current student in the Biology Program said that Dr. Launen "makes it a priority to know that a student is meeting their full potential in both academics and in life … Dr. Launen has a passion for biology that is absolutely contagious. She can inspire a drive to succeed in absolutely anyone she encounters. A drive that can make even the hardest of tasks conquerable."
Her faculty colleagues in the Biology Department also nominated Dr. Launen, with comments that include "Loren's excellence in classroom teaching is evident in a multitude of ways … Loren not only teaches a wide variety of courses, but she constantly works to find innovative ways to engage all students … Loren has worked diligently to develop a successful and thriving research program and actively recruits students with different academic backgrounds to work with her."
"I am honored to be this year's Distinguished Teacher. Keene State College is a community dedicated to excellence in teaching. Every day, I am grateful for the opportunity to work with, and learn from, the many great teachers here. I have had the gift of many wonderful students who have enriched my life in so many ways," said Dr. Launen.
Dr. Launen joined the Keene State College Biology Department in 2005. She is an environmental microbiologist currently researching the genomes of the marine pathogen Vibrio vulnificus, work supported by the National Science Foundation as part of a state-wide collaborative project aimed at better understanding how climate and land-use changes are affecting the Gulf of Maine. Prior to joining Keene State, Dr. Launen worked in industry as an industrial laboratory manager and environmental consultant, and taught at Maryville College in Tennessee. Her publications in peer-reviewed journals include numerous student coauthors and span more than 20 years. Dr. Launen's educational background includes a bachelor's degree in Biomedical Toxicology from the University of Guelph in Ontario, Canada, and a doctoral degree in Biology from Simon Fraser University in British Columbia, Canada, as well as post-doctoral experience at Rutgers the State University of New Jersey.
Related Stories