Staff Stories: Mail and Print Services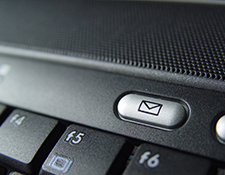 While most staff members at Keene State have to leave their office to interact with other members of the College community, that's not the case for Dana Gibson. In fact, they come right to him – to get their copying done. In an age where electronic communication and instant messaging rule, Gibson, the digital copy operator in the mail and print services department (RedBall Express), still leaves a paper trail, making thousands of copies for campus constituents, ranging from handouts and syllabi to booklets and posters.
While the days of the paper chase are diminishing on campus with Canvas learning management system (and Blackboard before it), Gibson says there's still a need for copies, citing legal reasons and holes in online security.
Francis Brush, the director of the Keene State Bookstore, Print and Mail Services refers to Gibson as a kind of Renaissance Man. Originally from Hudson, New Hampshire, Gibson initially worked as a logger and a dairy farmer. "It was a lot of hours and a lot of hard work, but I loved it," he said.
After the milk business dried up, Gibson attended the University of New Hampshire and Keene State before enlisting in the Navy, where he worked as a jet engine mechanic on a fast Frigate-Guided Missile, traveling up and down the east coast and to the Caribbean.
Gibson returned to Keene State in 1989 and never left. A student at the time, he fell into a job working as a projectionist, first at the Putnam Arts Lecture Hall and later at the Colonial Theatre downtown.
He would later work as a route driver, delivering mail around campus, before transitioning to his current job eight years ago. That's a lot of time, a lot of paper and a lot of copies. Using machines that can now spit out 95 pages per minute, Gibson estimates that he's produced close to 60 million copies during his tenure. What was his largest job? Gibson recalls doing 19,000 double-sided copies of a course evaluation form for School of Sciences and Social Sciences. While errors and reprints go with the territory, it's nice to know that that plain white paper being used is 100% recyclable. Gibson said he learned his lesson early on to wait for the last possible time to put the job on the machine, so updates and corrections can be done before he pushes the button.
Tucked away in the bowels of the mailroom on the second floor of the Student Center and oblivious to the constant hum of the machines behind him, Gibson knows it's not just about the number of jobs or copies he's produced over the years, but rather the feeling of satisfaction that comes when he hands over a stack of syllabi to a professor, a pile of posters to a staff member or color copies to a graphic design student eager to get to class. That part of the job can't be copied.
Related Stories