We're Coming to Keene State: Alex DeJesus and Carly Zuppe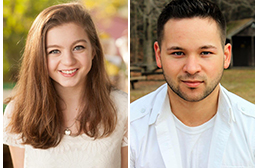 After meeting in their middle school production of Oklahoma!, Alex Dejesus and Carly Zuppe came to Keene State while touring with the New England Music festival. The visit struck a chord with the two singers, who quickly became enamored with the area's welcoming environment and the city's picture-perfect main street.
That feeling never went away. When it came time to select a college, Keene State was high on their list. "We chose Keene State independent of each other, but we both felt it was a good fit for each of our unique individual needs," said DeJesus.
"I remember really liking the city," Zuppe added. "When Alex and I returned for an open house, that same feeling came back. It felt like home as soon as we walked on the campus."
Both DeJesus and Zuppe come to Keene State from Valley Regional High School in Deep River, Connecticut. DeJesus, who is from Centerbrook, a hamlet located in the town of Essex, CT, became fascinated with science in high school, including biology and anatomy and physiology. After graduating in 2015, he spent last year at Middlesex Community College in Middletown, CT, where he was a member of the Phi Beta Kappa honor society. In addition to her love for music, Zuppe played on the Valley Regional high school volleyball team, earning second-team All-State honors as the Warriors' starting libero.
Meeting in middle school, the pair shared a common bond in music. Zuppe sang all through high school with the women's and concert choirs and even got to perform last December for American Christmas Carol at Carnegie Hall. Meanwhile, DeJesus enjoyed performing in theatre and a cappella chorus. He and four classmates sang in an a cappella group called The Natural Minors as seniors.
Although the pair won't abandon their love for music at Keene State, they do intend to pursue other interests. Zuppe, who is considering communication or exercise science as potential majors, says she is looking forward to the independence that college offers. "I'm definitely looking forward to being my own person and having a fresh start and seeing what I want to do as opposed to what's expected of me," she said.
DeJesus, who will enter Keene State as a sophomore, hopes to take a pre-med path and major in biology. "Science is my future goal and music is my hobby," he said.
Related Stories