Interning with Stay Work Play New Hampshire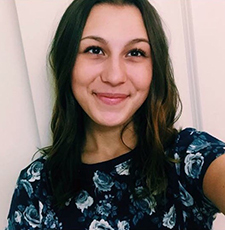 It's no secret Keene State College students like to stay in the area once they graduate. They aren't alone. According to University System of New Hampshire Chancellor Todd Leach, New Hampshire students who do attend college in state are 70 percent more likely to remain after college.
Keene State student Jocelyn Lencki is doing her part to encourage others to do the same. The senior communication major from Goffstown, New Hampshire, who is also minoring in journalism-public relations, is spending her summer serving as an event-planning intern with Stay Work Play NH, a non-profit organization with the goal to encourage 20- and 30-somethings to stay in, come to, or boomerang back to New Hampshire.
The organization couldn't have picked a better advocate for the Granite State than Lencki, a self-described people person who adores her home state. "I love living in New Hampshire because we have a little bit of everything in the state," she said.
Stumbling upon the internship last spring, Lencki couldn't be any happier with the experience. In addition to attending numerous meetings, she also helps out on the outreach and marketing side, going online to solicit strong nominations for the organization's annual Rising Star awards program and researching local companies who will donate products and raffle baskets for their year-end awards event in November. "This has definitely been right up my alley," said Lencki. "I love meeting new people, and I totally love the organizing part."
Lencki says the position gives her the opportunity to use many of the skills she learned in the classroom, including public speaking. "Professors encourage you to ask questions, and that's definitely helped me with my internship," she said. "If I'm uncertain about something, I don't hesitate to speak up. I also love talking in front of people."
Lencki said she always wanted to follow in her stepmother's footsteps and have a career in event planning. The internship, which she calls enlightening, has more than reinforced that decision.
Lencki has a busy fall schedule planned. In addition to doing her senior project related to service learning, she will also continue her internship through November so she can stay involved with the organization's October award ceremony. Lencki will be getting credit for her internship.
Related Stories